I appreciate that you've all (all six of you) been waiting with bated breath for the photo of Marianne in her 'fairy princess' dress and ringlets. She was the flower girl at my brother's wedding on the 17th.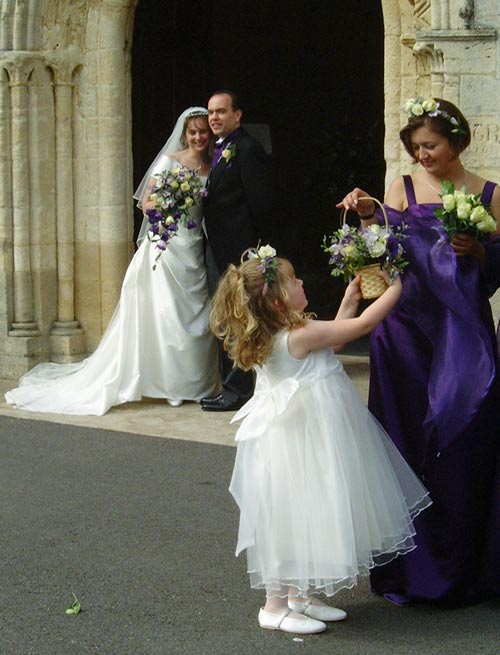 Just to demonstrate that I'm committed to equal time pictures of my kids, here's Jonathan, snapped immediately after returning from his first ever haircut this afternoon.
Meanwhile, I've been slaving over a hot copy of Photoshop (thanks, Victor). Just before going off on holiday, I bought a new mobile phone. I've moved from owning an unreliable brick sort of thing to a shiny, tiny new Sendo 230. The advantages of buying an unfashionable brand mean that it was cheap as chips. Still with Virgin of course, though one consequence of having a tiny light phone is that I keep it on me and use it, and Virgin's tariff is most suitable for people who don't use their phones. I've even sent some text messages. So far, every text message I've sent has elicited an immediate phone call from the recipient to say either "Goodness, I didn't think you even knew how to send a text message" or "I've had a text message from you. How do I read/reply to it?" Which sort of negates the point of the exercise. I'm slightly bemused by all this. I had formed a theory that every person reaches a point in middle life where they simply don't understand the technology embraced by the next generation, and for me that point was text messaging. But it turns out to be quite useful and even fun.
I am even more bemused by the market positioning of the Sendo 230 as a gamer's phone. I chose it because it was cheap, tiny, and has vibrate and a neat blue backlight. It also has twelve games, but none of them would give, eg, Space Invaders a run for its money. The most exciting is a virtual Whack-a-Rat; be still my beating heart. But on the other hand, I discovered the other day that 75% of the UK population own a mobile phone, and 4% own a PDA. So perhaps that explains why so many people resort to playing utterly crap games on their mobile phones.
But the best feature of all is that you can buy yourself a personalised phone cover. (Incidentally, if you decide to do this, make sure you first answer the E-Comeleon survey, as all respondents get a code worth £10 off the price of a cover.) It turned out to be rather hard to produce an image that worked well within the (substantial) constraints of mobile phone cover design, but I think I did ok in the end; when I get the cover I'll post a photo.

12:54:29 AM