May 09, 2012
Is anyone still reading?
I am sort of back. Or rather, I kept thinking that it would be nice to have somewhere where I could document things -- you know, stuff I'm doing, stuff I'm cooking, plans, things I haven't tried yet but would like to, places I've been, places I'm going. If only there were some way to do that on the Internet.
I feel like there's been a massive splitting of my online experience. Many of my friends are on FB, which prioritises the trivial over the profound. No, really, it does; it gives greater weight to photos, so all those stupid memes that go round turn up on everyone's front page. More critically, it gives lower weight to status updates. But the status updates are the stuff I care about -- the posts where my friends tell me what they're doing. We're not the kind to post updates like 'I'm eating cereal Right Now'. Anyway, I too am on Facebook, and you can find me there if you like.
I've been cooking, and storing all my recipes in a lovely program called Paprika, which syncs in the cloud and is available for Mac (find and store recipes), iPhone (handy when shopping) and critically, iPad. I keep my iPad on a rack in the kitchen and cook from it all the time. I want to take notes of what I cook and when, but Paprika doesn't have a good interface for that at all.
I don't feel like I'm unemployed. But I have left my old job, and don't have a new one yet. Instead, I'm studying. For free and online, and that feels like a major thing to write about. Plus the inevitable lifestyle things. The Oatmeal is instructive here.
I still want to write about music, probably with Spotify or last.fm links. My old page of mp3 links feels very old-fashioned now that you can stream all sorts of stuff all the time.
Looking at the sidebar, I haven't been putting much on Flickr but I should do more of that; I'm still scrobbling the music I listen to, I stopped using delicious because it looked like it was circling the drain but didn't find anything much to replace it. The 1001 days ran out but I hadn't done all the 101 things.
I do stuff. I might write about it sometimes. Comment if you like.
Posted by Alison Scott at 09:55 AM | Comments (4)
March 02, 2008
Mother's Day Piracy Special
For Mother's Day I was brought breakfast in bed (boiled eggs and bread and butter and coffee), and flowers and chocolates and two cards. Marianne had embroidered a flower, very beautifully, and Jonathan had found a pirate themed card. Why? Because this particular Mother has played entirely too much YoHoHo Puzzle Pirates recently. I had completely packed it in, partly because of the crack-like tendencies of MMORPGs but mostly because of the phenomenon described in this Penny Arcade analysis. They're talking about WoW rather than any other game, but the killer quote is this; What I do know is that they have set up a system that allows me to rent my friends on a monthly basis.
A couple of weeks ago, I was back looking at Penny Arcade again, and there was an ad in the corner for Puzzle Pirates, and I thought, just briefly, gosh I miss distilling. And that was it; I fell that quickly. I reactivated my character, picked up the 'longtime subscriber' special offer of £25 for a year, and discovered the new Atlantis expeditions. I went and stood on the deck of my sloop but haven't sailed it at all; I'm not sure I remember how. Instead I've been jobbing on other boats and spending the money on new clothes. Marianne is playing too, in strict defiance of the Three Rings child protection policy. We have just (this minute) commissioned a joint portrait.
The results of all this are predictable; staying up far too late, eating badly, getting no exercise, playing no melodeon, doing no housework, and spending every possible moment in the game. It's an act of strength to do anything else at the moment. I love the collaborative nature of the game, and I enjoy the puzzles. I'm just not sure I can play it moderately.
Instead, today I'm working with a new toy; an *ion Tape2PC cassette deck. I appreciate that I could have done this with any cassette deck; I didn't need a USB one. But in fact we don't have a cassette deck, and haven't for some time, but when we found the cache of old cassettes there were some dozens that we weren't prepared to throw out. The Ion deck comes with Audacity (which is free anyway), and with some software designed to make it easier to use on PC, though not Mac. I reckon that this is a job for the killer combination of Audio Hijack Pro and Fission. The deck is £100 from Maplins; I bought mine on eBay for £84 including postage; the intention is to store all the bits and resell it as soon as the transfers are done. AHP and Fission come in a bundle for $50; although I think you can do all this stuff in Audacity if you try, I find Rogue Amoeba programs much easier to use and highly optimised for the precise tasks I tend to be doing.
So. I'm currently listening to the album launch of the Oysterband's Holy Bandits, at the Borderline in 1993. Gosh, what a great gig that was.
Posted by Alison Scott at 01:05 PM | Comments (1)
March 20, 2007
A mystery resolved, war on spammers, and museum rescue
My idea of blogging for ten minutes a day reaches its third day! But I have too many things to tell you. Yesterday's mystery is resolved; it is Morrison's Jig. Steven remembered it from Alan Stivell's Gaeltacht, and I from Rosheen's Musique Celtique. We also have versions from the Flash Girls and from the Family Mahone, and we're pretty sure Fairport play it live.
Intimations of mortality; I was sent a copy of Able Magazine, "Britain's Leading Disability Lifestyle Magazine" in the post. Very worthy I'm sure but as we're all members of the temporarily able-bodied I was a bit mystified. Eventually I remembered that I am also a purchaser of RADAR keys. I am sure I told them at the time that I wanted them in order to open gates on towpaths to let tandems through but I doubt the database is so discerning.
In the war on spam, I have accidentally deleted almost a year's worth of genuine comments on this blog. Yes, I am an idiot. No, they weren't as far as I know backed up. Please feel free to make any recent comments again. Spammers need not apply.
Just time within my ten minutes to tell you about the William Morris Birthday Party, happening on Saturday 24 March at Lloyd Park in Walthamstow from 12-3 (the park that surrounds the William Morris Gallery). This is a chance to celebrate the life of Morris, and, incidentally, challenge the council's budget cuts that mean that the William Morris Gallery, the only museum dedicated to Morris, and the Vestry House Museum, Walthamstow's local museum, will only be able to open at weekends. Singers, musicians, families, banners and anything else celebratory is welcome.
Posted by Alison Scott at 12:44 AM | Comments (3)
October 09, 2006
A Girl Can Never Have Too Many Small Screwdrivers
My beloved Sony Ericsson K750i, the best phone I've ever owned, developed a fault. The camera stopped working, all of a sudden. No damage or anything, no sign that anything was wrong, no pictures. I don't want to replace it just yet because its obvious successor, the CyberShot phone, feels rather 1.0 to me. Also, it's bigger than the K750i and I'm not sure I want a bigger phone. So I want to wait for the next generation of camera phones. And having had a camera phone for over a year, I find I can't live without that sense of always, always, having the camera with me.
Turns out that the fault is a common one and there is a K750i dismantling guide on the Internet. Phone shops quote fix prices for this fault ranging from $12 in Peru to £100 in London. Hmm.
I'd never properly opened up anything as fiddly as a phone before. And I needed a new screwdriver! A Torx T6. I had some larger Torx, but none of the tiny ones. By a strange coincidence, Maplin has just opened a branch on the Strand, for all my superfluous technology needs. Got the driver, did the repair (as well as the T6, I needed my tiniest Philips, and a flat thin piece of plastic to free the cover clips -- they recommended a guitar pick, but I used a 16Mb SmartMedia card), and my phone works again.
Go me.
Posted by Alison Scott at 11:17 PM | Comments (0)
August 29, 2006
Dropping in quickly
We won a Hugo for Plokta! Which is very nice. Many thanks to those of you who read the fanzine and thought we were worth voting for. Please read other fanzines too, particularly our fellow nominees Banana Wings and Chunga, both of which are among my very favourite fanzines.
How I found out; I checked my phone, rather bleary-eyed, mid-morning on Monday, in between Kerry Fletcher's deceptively exhausting European couples dances workshop and Twm Twp's rousing Welsh music and dance workshop, somewhere in a field in Oxfordshire. There was a message from Pat McMurray. Help! I thought. Is there something wrong with the house? Pat lives just round the corner, after all. It said 'Congratulations, Hugo winner.' I stared at it for some time, wondering why Pat would joke about something like that, before my brain finally remembered that we had sent Pat off to Anaheim (a) as our acceptor for an award we had no chance of winning and (b) without a speech, on account of the whole no chance of winning thing. I'm still not entirely convinced.
Towersey was fabulous, though I saw very few of the headliners on account of a discrepancy between demand from ticket holders and venue size. I am told this is a feature of Sidmouth-style multi-ring circus folk festivals, and we had a fine old time anyway, including three ceilidhs and four dance workshops, three session workshops and four sessions, tons of small concerts, weird impromptu happenings, and general podding about. The one thing that seemed really mismatched was the children's festival; there was very little unstructured for children, and the structured events were mostly oversubscribed. Given that the kids' tickets were a tooth-crunching £32 each, we'd expected at least, say, Trowbridge's level of kids' ents. But Jim May taught me how to make a talking banana, so I can die happy.
Posted by Alison Scott at 11:33 PM | Comments (0) | TrackBack
August 18, 2006
Friday Roundup
The last few summer festivals wind out. We're planning to go to Towersey over the August Bank Holiday, which will leave us, I suppose, having done more festivals in one year than ever before, or than we're ever likely to again. We're becoming connoisseurs of the subtle differences between different festivals, each with their own unique features. And on the whole, we've had a lovely time. For the first time, Marianne's been showing signs of being both interested in the music and choosy about it. And I lost count of the number of times some random mother came up to me and said 'Are you Jonathan's mummy... because he's playing with my kids on the other side of the field.'
Next year, the bootstrapped convention Year of the Teledu sits neatly in the middle of the festival season, on the same weekend as Trowbridge. So we have a choice to make, and quickly, because Teledu is bound to reach its membership cap long before the summer.
All those festivals have limited our bike-riding, though we have embarked on our new, two-tandem lifestyle. We're hoping to get some rides in this weekend, weather permitting, when we'll be off in zone 7 seeing a variety of friends and relatives. I'm hoping we can persuade some relative to take a nice photo of all four of us on the two tandems. Watch this space.
The 101 Things project is coming along reasonably well, although I concluded that even if all I do is sort my teeth out it will have been worth the time. I'm still looking for a last three things that inspire me though.
Flick convinced me to have another go at Kingdom of Loathing, and this time Marianne has come too. But I'm the only Accordion Thief in the family.
Meanwhile, Make: magazine has spawned a spin-off, Craft:. It would probably be churlish of me to describe this as Make: for girls, or to note that none of the things in the accompanying blog have been anything like the wild, delightful stuff that the Make blog drops into my aggregator every day. But let's give it time.
Posted by Alison Scott at 09:53 PM | Comments (0) | TrackBack
June 23, 2006
Friday Roundup
A weekly roundup
Last weekend: It is with the greatest difficulty that I resist telling you in detail how the Oysterband are the best band of all time. And there's a new album coming out! I had a fine time at the Big Session, but the rise of MySpace means you don't tend to discover new bands at this sort of thing. Nizlopi felt like a bit of a disappointment to me, but I enjoyed The Eighteenth Day of May.
Being away for the weekend meant that we missed this week's Doctor Who, Love and Monsters. So I came back to equal parts delight and outrage amongst those who had partook in the Shared Cultural Experience.
Two years ago, Orbit launched a tandem, the Zodiac, with 20" wheels, designed for an adult and child to ride together. We knew that at some point we'd need a second tandem, but we dithered, and meanwhile Orbit took it off the market again. A few weeks ago Steven spotted someone selling a nearly-new Zodiac for rather less than half price, and on Monday he drove over to Oxford to pick it up. So we are now a two-tandem family, though we haven't ridden anywhere in earnest yet.
Wednesday: The school Marianne is likely to go to has a Greek theatre (built in the 20s when these things were popular) in its grounds. And we went to see the Greek Theatre Players perform The Merry Wives of Windsor in the round in the open air. It was great; excellent performances particularly from Peter Wilson as Falstaff, and Melissa Quinn and Pamela May as the wives; but a generally good cast having a good time. Amazing costumes that would be far beyond the means of amateur theatre turned out to be loaned from the RSC.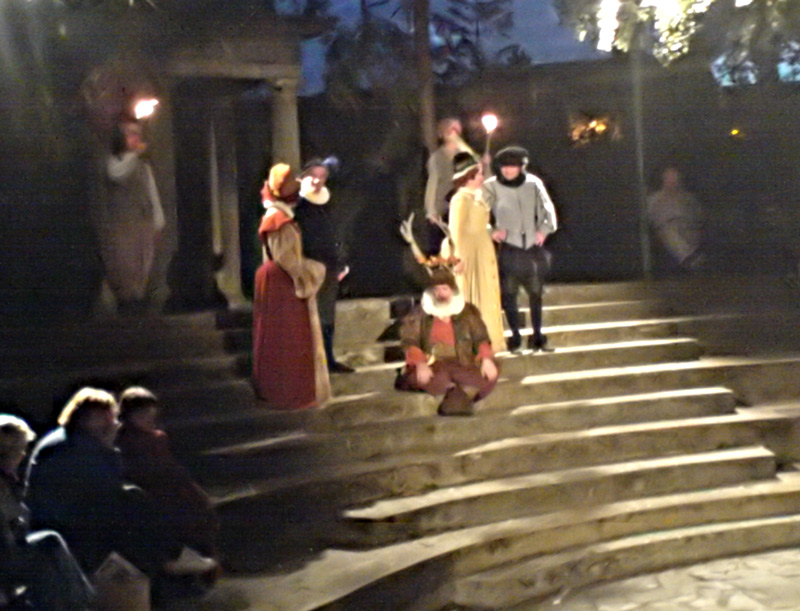 Taken with my Sony K750i camera phone, and cleaned up with Neat Image, which I have now bought (though this was done with the demo)
I mused on the payoff that comes from having been a philistine; I've never studied The Merry Wives of Windsor, or seen it before. So I laughed at all the low humour, marvelled at the things that never change, and generally had a fine old time.
Also on Wednesday I read an article about David Gardner (not this one), who had his leg blown off in the Tube bombing last year. He explained how he'd had a great year, how he'd resolved to have everyone who came to visit him in hospital leave happier than when they arrived, how he felt sorry for the bombers' families, how pleased he was to be acting again, and how he was determined to run again in a few more months. The whole thing was really cheering, and I resolved to cultivate a more optimistic outlook.
From Dubious Quality I learn that the Ghanaian government ordered that gold production should be scaled back by 50% on Thursday to ensure that the country could power all the televisions tuned to the World Cup match wtih the US.
This week I have been reading self-help books; in particular Julie Morgenstern's Organizing from the Inside Out
and Brian Tracey's classic anti-procrastination tome Eat That Frog!
As well as Eat That Frog, my executive coach recommended Today I ate two frogs: I finally got round to seeing my doctor about various trivial complaints that Aren't Getting Better, and I got my hair cut.
This weekend: Plokta!
Posted by Alison Scott at 08:50 PM | Comments (0)
January 14, 2006
Limited Edition Tardis Box
Marianne, for her birthday, is getting the Tardis Box Set of Doctor Who. I peered at the box. That's nice packaging, isn't it! But hey... it's a 12 rating. "Unsuitable for those below the age of 12" it says. That's mad! It was on telly at seven in the evening, both my kids loved it, half its target audience was below the age of twelve...
Steven frowned. "Perhaps it means that once you're twelve you're allowed to sit on the sofa."
Posted by Alison at 09:23 AM | Comments (0)
January 11, 2006
Things I've learnt recently
Having a cat washing your hair is very interesting.
The real name for the theme tune of Captain Pugwash is the Trumpet Hornpipe.
Do not get me started on the Narnia Movie.
I clearly missed a memo; Rachel Unthank & the Winterset are brilliant, and have just won Mojo Folk Album of the year. Which is a bit like an award for "Best West Midlands Beach". But there we go. And luckily, they have a song you can download: Tar Barrell in Dale.
Having dithered for months about whether to buy a Nintendo DS, a Sony PSP, or a GameBoy Micro, I couldn't be happier with my DS. I have an incredibly cute beagle puppy and a passable pinball machine in my pocket.
I actually like bosses in pinball! Who'd have thought it? I have never liked any game bosses ever. But there's something satisfying and somehow pinball like about setting up chains of shots to hit a boss.
If I'm going to keep a blog, I'd better update it.
Posted by Alison at 12:58 AM | Comments (2)
August 23, 2005
Slowly Emerging
Interaction, the Glasgow World Science Fiction Convention, was a lot of fun. I remember considerable chunks of it. Plokta won the Best Fanzine Hugo, and mine (we got three) is now sitting on my mantlepiece. It's very lovely. People seem to have liked the fan room and associated real ale bar, but inevitably some of the people we'd have liked to have seen didn't quite find their way in.
I finally got a CD of Red Box's The Circle and the Square, taking advantage of a little eBay cottage industry, where someone handcrafts perfect CD-Rs from their original CD, complete with inkjet labels, sleeve notes etc., and then sells them complete with a copy of the original album on vinyl or tape to minimise any remaining copyright concerns.
Seeing Richard Thompson tonight at the Lyric Hammersmith (the Frank Matcham theatre that has been completely encased in concrete). His new album, Front Parlour Ballads, is on eMusic. Other recent acquisitions for eMusic include the whole of the Smithsonian Folkways catalogue, and new albums by Rainbow Chasers (Ashley Hutchings' new band), and Tickled Pink (Simon Care's dance band).
We did go to five festivals this summer as intended; varying from small to quite big, driving rain to brilliant sun, entirely civilised to utterly primitive, and music from folk, to, well, electric folk. Another post might link the bands we saw live this summer to eMusic availability.
If you're reading this blog on an aggregator/feedreader (eg LiveJournal or NetNewsWire), you might also want to aggregate my del.icio.us sidebar of links plus a little commentary as well; real gluttons for punishment would also aggregate my flickr photostream, which is almost entirely a moblog with brief comments. Both have the advantage that I tend to post to them when I'm not around my home computer.
Posted by Alison at 08:57 AM | Comments (4)
July 03, 2005
New Lick of Paint: Now with added Photos
I turned 40, and bought myself a new phone. I'm moblogging to the LiveJournal rather than here because the photos are trivial, and besides, it's a phonecam. But to do this I have set up a Flickr account, and so it made sense to add thumbnails from Flickr to the right hand margin of the blog. You can click through for a bigger photo.
Posted by Alison at 09:53 AM | Comments (0)
January 07, 2005
Overheard in the pub
I've now enjoyed myself thoroughly at two consecutive London Circle meetings. Last night I swapped some leftover household tat for a copy of a a new book about the early development of computers, which I'm honour bound not to review for another couple of months. I spent lots of time chatting to Much Younger People and making fun of the programme of the London SF film festival. Pat McMurray was hugely embarrassed about his behaviour on New Year's Eve, when he and Liam Proven livened up our sedate party by arriving just as we were heading up to bed. He was worried that they'd gatecrashed, but I explained that first-footing was a fine tradition. After which we stayed up for another three hours, and drank entirely too much of an almost perfect bottle of whisky that we'd been saving for a special occasion. (Although drunk, I did have the presence of mind to put it away before it all got drunk).
The Christmas meeting was enlivened by the presence of Jordin and Mary Kay Kare, and also rare visitors Chris Bell and Colin Fine. Chris was showing off a model of Howl's Moving Castle, which had been given to Diana Wynne Jones by Miyazaki.
At both meetings, Rob Hansen, Avedon Carol (with apologies for not updating my link for 2 months), Owen Whiteoak and Alun Harries propped up the downstairs bar, with Owen ensuring that we were all well-stocked with copies of Fortean Times. It's a good time for forteana, what with the Templars appearing in Hertford, hobbits walking the earth and so on.
Posted by Alison at 07:54 PM | Comments (0)
January 05, 2005
Please Bring the Cards Into Nursery for Cutting
January 5 is the traditional day to bring down the decorations, fail to fit the lights back into their boxes, and explain to the children that no, they can't eat every candy cane remaining all at once. The house is now strewn romantically with pine branches, all of which fell off the tree as we manhandled it out of the house. I suppose we should do something about that, though it does smell nice. Digression: I pulled out the new bottle of Domestos toilet cleaner, to discover it was a Christmas special 'Mistletoe and Pine' scent. Ho ho ho.
And I'm sitting with a vast pile of cards, checking them over for addresses, phone numbers and other snippets of information, and reading the round robin letters. Round robin letters have had a bad press recently, and we've had fewer of them this year in consequence. A shame, because I liked them, and have even perpetrated them in the past. I understand that some people get round robins from people they hardly know, but most of ours were from friends we wish we saw more often, or cousins we like but don't quite manage to visit, and it's good to hear what they're up to. It's not really a very big leap from the round robin Christmas card to the blog, after all.
I was reminded of the 'theoretical reader' the other day, when my daughter complained about having to write thank you letters to people she doesn't really know. She quite understood that it's the flipside of accepting presents from people you don't know very well but who think kindly of you, but was having trouble with the actual craft of writing. I rattled off a dozen different strategies for writing thank you letters, and one of them was 'just imagine you're writing the letter to someone you do know'. And she cheerfully went off then and wrote the letters. This startled me, because I've never written anything with a Particular Reader in mind. I suppose I hope that somebody is reading; I am not writing, for example, to my future self.
We seemed to get more hand-made cards this year; at least a dozen, ranging from inkjetted family injokes like ours, through to individual embroideries. My favourite was Sue Jones' beautiful photo of a weathered stained glass window in Shrewsbury cathedral. Our very last Christmas activity is to hand them all over to the nursery for cutting.
Posted by Alison at 11:55 PM | Comments (0)
January 03, 2005
Nobody Move or the Blog Gets It.
OK, the blog is safe for the moment, but your comments go into a comment queue. I will try to sort out what's gone wrong with the blog at the weekend (possibly by reverting to a default style to straighten it all out). In any case, I'm fairly convinced you're all getting this by RSS, so I'm thinking of stopping the side blogs in favour of more stuff in the main one.
Meanwhile, Six Apart may be (Update: is) using venture capital to buy LiveJournal. This would make a lot of sense; LJ has a massive user base, has great stone soup programming, is based on open source, is deeply spam-proof, and is making money without pissing people off. It also has butt-ugly, hard-to-configure UI. Movable Type and TypePad are beautiful, MT is spammed to oblivion, the paying user base is small. I do worry for the purity of my LJ permanent account, surely the best value ever at $100 (which is worth, at current exchange rates, approx 58p).
The combination of MT 3.14 and MT-Blacklist is very slick and easy to use, though I'd rather not have comment spam to worry about at all. I am still a little bit disgruntled by MT saying brightly that MT 3.14 is free for personal use; so it is, but if you're a couple, then unless you want to maintain your blogs on entirely separate MT installations, thereby doubling the work, you have to pay. It is, of course, well worth $70 (approx £1.24 at current exchange rates).
Overheard on the Internet: on one of the DDR forums, I saw this --- 'I've been playing Dance Dance Revolution for a little while now, and I'm really enjoying it. But I find that after I've played a couple of dances, my throat gets dry and I have to take on water. Is this normal?' Someone had replied with a reasonably straight face, 'Yes. This is called 'exercise' and it's good for you.'
In the Latte Free Zone, I'm drinking black tea at work, and we bought a new Bodum Electric Santos coffee maker to replace the Starbucks Utopia (same machine, different branding) that broke. Believe what they say about durability of this machine; it has a two year warranty and we've stapled the receipt to the warranty certificate and put it somewhere easily findable.
Meanwhile, we've been admiring the lava lamp, playing Frustration (that game with the popping die) with the family, going around the house with a flip chart identifying tasks that need doing, as recommended by David Allen, taking down the Christmas deccies, finishing up the Christmas food (burp), and getting to grips with the new Weight Watchers rules. Strangely, there is still no setting that allows you to eat almost until you burst, nor yet one that accounts for arriving home from work and discovering a left-over Christmas packet of Florentines with the words Eat Me stencilled in invisible ink on the side.
Oh, yes, and deciding that disembowellment with a melon baller isn't good enough for them.
Posted by Alison at 02:14 PM | Comments (0)
September 23, 2004
Life is Catching Up with Me
We seem to have settled on BBC Radio 6, properly known as 6Music, though obviously people would understand completely the name BBC Radio 6, whereas 6Music could be anything.
From this morning's show; recipes for baked beans -- "take four slices of lightly toasted Warburton's bread -- other white breads are available -- put down a slice of toast, add a layer of cream of mushroom soup, add a layer of baked beans, add a slice of toast, add another layer of soup, add another layer of beans, add another slice of toast -- voila! The Great British Lasagne"
Anyway, one of the fringe benefits of this is something that we never, ever got on Capital -- the chance to listen to new music that we actually like. So I find myself rushing to my laptop to type in snatches of lyrics to Google. Like, say, "she's preoccupied with 1985". Thus I discover that Bowling For Soup's 1985, which, yeah, speaks to me, turns out to be the most often legally downloaded song of all time. So I think we know what demographic uses the iTunes Music Store.
I am, remember, the person who was shocked to discover, a year or so ago, that Next had a whole series of clothing with "class of 1982" logos for kids. I just stood in the shop staring. I mean, that was my high school class. It's not, like, retro, or something. It's only a few years ago, not like all that sixties-nostalgia-stuff that was around when I was in high school.
I also discovered that '1985' is a song by a different band, SR-71. They've just had that weird experience of having a song of theirs become a huge hit for someone else. Oysterband have never had a hit (unless you count Fiddler's Dram), but "When I'm Up I Can't Get Down" was a huge hit for Great Big Sea, to the extent that many Canadians think of it as one of the great Canadian songs.
Oh, yes, and I've just come out of hospital, having had the minor operation that I've been waiting for for, oh, 11 months. Weird experience; 24 hours of sitting around in hospital, perfectly healthy, no treatment of any kind except dressing for the operation which took about 10 minutes. Quote "we have to take you in the day before because it's the only way we can guarantee there'll be a bed for you after the operation". Then the op itself, and I was awake and fairly chirpy quite soon after. One more night in hospital to rest and now I'm home again, and in no pain at all provided I don't move even a little bit. Typing's ok.
Posted by Alison at 09:27 AM | Comments (3)
August 23, 2004
Saturday Treats
We're busily looking for treats and entertainments that can be managed with only one hand . That wouldn't include the twirly Poi we bought for her at Cropredy, then.
Digression: Do you know the Legend of Poi? Once upon a time there was a young acolyte who studied hard and showed great devotion. Every day he asked his teachers "How can I join the ranks of the masters?" And they told him to seek out Poi. But they knew nothing more about it. He started to seek, high and low, to the ends of the earth, trying to find Poi. Every so often he'd hear a rumour, and travel to a remote and forbidding place in search of Poi. But he was always disappointed.
Eventually, he found himself at the foot of a tall mountain, so tall that the top was shrouded in cloud. He met the monks who lived at the base, and told them he sought Poi. They said he must speak to the master. So he began to climb the mountain. He climbed for three days, sleeping on the mountainside and listening to the howl of the wind. Eventually he reached the top and found the master.
"I seek Poi!" he cried. "Can you give me what I seek?"
"Of course. Would you like steak and kidney Poi or chicken and mushroom Poi?"
End of digression. Anyway, we went to Matsuri High Holborn for lunch, on a £10 buffet special (nothing off for kids) that has probably ended now. One of the delights of living in London is the ability to eat cheaply in the summertime, as the city depopulates and restaurants will try anything to get people in. We added teppanyaki icecream, which suitably impressed the children -- Jonathan explained 'that was close!' after the fireball -- and was very tasty. Even when only paying pizza prices, you get to watch teppanyaki, eat perfectly prepared 'everyday' food, and have the joy of perfect service. We were inordinately loud compared to the mostly Japanese families we were eating with; this is the first quiet teppanyaki I have been to. Matsuri also has a regular restaurant section, and a sushi bar -- we sat at the sushi bar the other week when Steven and I went for dinner and ate perfect sashimi and sushi, and lots of it, at high prices that felt rather good value.
Then on in a 'what's interesting and near here' way to the British Museum, which I hadn't visited since it acquired its new glass roof. The roof and the dome of the reading room were much admired by the children. The reading room itself is bizarrely furnished now, with a set of books around the wall that reminded me of the walls of books you get in pubs; rather random and for decoration rather than use.
We discovered much later that the reading room is also where you go to pick up borrow-and-return backpacks and activity trails for children; these are not well advertised and despite knowing that these packs existed and asking museum staff about where to get them, I was never directed there. Instead they sold me the children's guidebook, which is rather good for curious children of about Marianne's age, and which we could have done with having before we visited, to choose what to go and see.
I was tempted by the current exhibition, a virtual reality tour of a mummy -- the Tube posters show anaglyph glasses, but this is actually a polarised 3d movie. We decided against it but I may sneak back without the children.
The regular common or garden mummies, which we came upon randomly, were suitably fascinating, extraordinary, beautiful and (for adults), really creepy. As I become older I find I become less and less confident that displaying dead bodies for the entertainment of the general public is acceptable, no matter how old they are. Marianne's fascination with ancient burial customs was cut short by a fire alarm that caused us to move randomly in some other direction. We came upon the Parthenon Marbles, pronounced 'boring' by Marianne, and the Nereid Monument, which impressed us all.
In the shop, I didn't buy The Royal Game of Ur, though slightly regret that now that I've played the online version. Although the shop says for players of 14 or over, the easier rules would be fine for a sharp four-year-old. I like the fact it has tetrahedral dice, though they're used as binary dice. I was also surprised to see one of these vases, twin to the one on our living room mantlepiece, for a great deal more than we paid for ours in Ironbridge a few years ago.
In Museum Street we found a specialist games shop, Playin' Games. Marianne and her friends are currently obsessed with Top Trumps. It's hard to explain just how parent-pleasing this is -- it's as if all the Juniors had suddenly started playing with hoops and sticks. So we picked up a set of Roald Dahl Top Trumps for her, which we played all the way home on the tube. Huh. In my day we had to make do with helicopters and dinosaurs.
Posted by Alison at 12:50 PM | Comments (2)
June 30, 2004
Silver Linings
Things I discovered today:
1. Deciding to catch a train a half hour earlier to give myself more time to get to Hammersmith in the absence of the Underground will not work if it turns out that the 6:53 is the first train.
2. I really really should have plugged in my iPod and PDA when I got home last night, because neither had charge this morning.
3. There is nowhere anywhere near Walthamstow Queens Road station to buy a newspaper.
4. Or a grande skinny latte.
5. Or any other sort of coffee or anything for breakfast.
6. Whereas normally, the exact details of one's train journey are of little interest to one's colleagues, at today's Senior Managers Conference it appeared to be something of a pissing contest.
7. As I went on not one, but three train lines that most people don't know exist, and, due to (1) above, took 2 1/2 hours over the process, I scored rather well.
8. Under normal running, taking the Gospel Oak to Barking line to Gospel Oak, changing to the North London Line to Willesden Junction, and then taking a weird spur train is by far the most efficient way to get from here to Olympia. This is Inherently Implausible, but will be handy for the Great British Beer Festival.
9. What's more, today this route came with a free, while-you-stand, fully-clothed, Turkish Bath Experience.
Posted by Alison at 10:14 PM | Comments (0)
June 22, 2004
Sammy the Red Pixel
This is entirely a Plokta in-joke ; this is a picture of Sammy the Red Pixel, taken while on holiday at Centerparcs in Whinfell Forest, which has a flourishing colony of red squirrels. I had to reduce the size of this pic to make it sensible for the web, too.

either that squirrel's very very big, or very close to us
Posted by Alison at 08:46 PM | Comments (1)
June 07, 2004
Is This a Record?
I spent the weekend sorting out piles of vinyl, into those we have on CD, those we can easily get on CD, those we can get on CD but only by spending stupid amounts of money, and those that have never been released on CD. In the LPs, that last category is tiny (perhaps 40 LPs out of 250, of which we care about 30), but for the singles, there are plenty. I had never realised just how strong my collection is in 'novelty one-hit wonders of the seventies'.
The plan is to give the vinyl to a friend with a more serious clutter problem than us, in return for which he'll mp3 the stuff we can't get and want.
But one of my one-hit wonders is missing! Does anyone have an mp3 of "Zambezi", by the Piranhas? It's a complete earworm and still runs through my brain despite my not having heard it for decades. Update: Thank you, Dr Plokta!
Posted by Alison at 10:42 AM | Comments (9)
May 04, 2004
Home from plokta.con
Steven said wistfully on the way home "Well, I enjoyed that. But I think I enjoy small cons that other people run more." And I don't think we can quite manage Convivial, which looks like a marvellous convention; the idea of three full days of Victorian dress up is a bit too much for me to cope with.
The house is full of pirate tat.
We put me on far, far too many programme items. Bad Alison. To the extent that one of the other caballeros got pissed off at me yesterday morning because they were looking for me and my powerbook and both were on the programme, I didn't get any time to prepare a couple of things properly, and I visibly frayed at least three times over the weekend because of lack of chill time. For Interaction, we are returning to the traditional and perfectly sensible rule that the cabal get to be on one program item each.
Charles Stross was a hard-working, entertaining and amiable guest. On Saturday, Cory Doctorow arrived, interviewed Charlie, did a pre-arranged interview with a journalist, held forth on a panel abut intellectual property rights and left again, all in the space of about four hours. On Sunday, Diana Wynne Jones popped over and sat around in the bar chatting to us all. Thanks to all.
Lots of people gave me presents! Thank you. All moose-related apart from a copy of Diana's new book.
Most of the programme worked well; I was particularly proud of the Photoshop panel, which managed to be quite serious about fan art despite technical problems.
The mac laptop count rose again; at least seven this time.
Posted by Alison at 08:37 AM | Comments (1)
April 18, 2004
Update
I was feeling sour about Macadamia, because I was getting tons of comment spam, and found the instructions for upgrading Movable Type scary. But I have steeled myself, and have also installed MT-Blacklist.
<plokta.con 3.0> is in two weeks, and the cabal have been feverishly eating everything in sight putting the finishing touches to the con. The programme has been inspired by pirates, more pirates, the works of Charles Stross, our GoH, robots, Mars, the Third Dimension, and the Subservient Chicken.
Meanwhile, following the example of Patrick and Teresa, I now have a CafeShop. There are only two shirts there at the moment, one a special order for Jonathan and one a special order for, um, somebody else. But if there's anything you'd like in the way of a shirt or other item, let me know and I'll see what I can do. I can produce art with mine or Sue's art from Plokta, or various Photoshop effects, but I can't do anything that infringes anyone else's intellectual property, or violates reasonable standards of good taste.
Posted by Alison at 09:54 PM | Comments (1)
October 04, 2003
Where Have I Been?
One day a couple of weeks ago, I followed a link in a comment in Teresa's blog, and found myself at Worth1000, a site largely devoted to Photoshopping, with daily contests. Reading the faq, I quickly discovered that every Photoshop I've ever done is on their cliché list of banned subjects. (I have previously done pictures with Star Wars, Star Trek, Lord of the Rings, Harry Potter, MC Escher, marijuana, WTC tourist guy, screenshots of malfunctioning computer systems, and, of course, Mr Bean. Not to mention two things that damn well ought to be on their cliché list, American Gothic and the Sgt. Pepper's cover.) Whoops.
So, I've been over there, photoshopping away, and have learnt some new techniques and received one rather flukey second prize. You can see my attempts here.
Posted by Alison at 12:34 PM | Comments (5)
July 01, 2003
The Road Less Travelled
Not that we had tickets for Glastonbury anyway. But at any rate, it's the Worldcon of festivals, and so not our sort of thing at all. Instead we were at the altogether more cosy Crawley Folk Festival, set in and around the Hawth theatre in Crawley. Weekend tickets were a wallet-crunching £14, and allowed us to camp "wherever you can find a spare bit of grass". As we arrived late, we pitched our tent in a far corner, meaning it took us almost two minutes to walk from there to the main stage.
And the music was fine. We were drawn to this particular festival because the very wonderful Jim Moray played on Saturday, on the smallest of the four stages. His new album, Sweet England is released today, and this concert was free to all comers.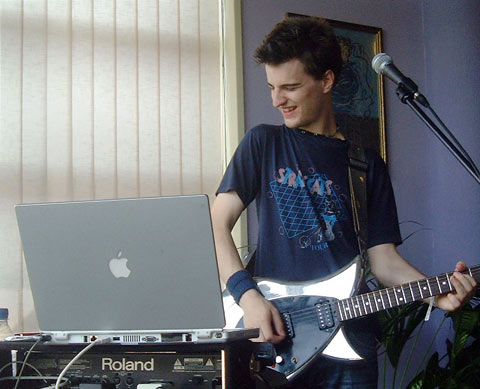 Can you spot the PowerBook in this picture?
There was lots else to enjoy, though. We particularly liked Carreg Lafar, who are a Welsh version of lively Celtic bands like Runrig. Steven managed to follow most of the songs; I let it all wash over me, but my fannish training came in handy for songs like Ceiliog Ddu.
Billy Bragg headlined Saturday night, with a blistering set that mixed up his own songs with his settings of Woody Guthrie's lyrics, and plenty of entertaining patter. He was supported by Alasdair Roberts and Gareth Eggie, who were startlingly good but appeared not to have CDs with them. Also recording-free were Dr Faustus, who I'd read about after hearing Benji Kirkpatrick with the Oysterband earlier in the year. They played in blistering heat on Sunday afternoon, while we drank the last of the beer and rested in the shade.
I was sad to miss The Boxhedge Clippers, who specialise in singing one song in the style of another, and have an album called Topiary in the UK. (mp3s of "Anarchy in the UK" and "Hit Me Baby One More Time" on the website should give you the idea, though the latter reminds me of a less edgy version of The Ukrainians. Who, interestingly, also have part of an mp3 of "Anarchy in the UK" on their site.)
We also heard a little of supergroup Blue Murder, who finished the festival; sadly, delicate vocal harmonies proved too much for my indelicate children, who were strung out and whiny by this point.
All this was glued together with plenty of other bands, a real ale tent with twenty different beers, craft workshops for the kids, and glorious sunshine.
Posted by Alison at 12:33 AM | Comments (1)
June 21, 2003
Splitting Headache
I'd had some wine with dinner. "Somewhere between moderate drinking and completely blotted," as I explained to the doctor. Lilian and I took advantage of last weekend's Patio Improvement Project, and sat out till midnight. It started to get dark about ten, and I used the rope light in earnest for the first time; it's much, much nicer than the security light that previously provided all our ambient outdoor lighting. When we reorganised the study, we freed up a pair of active computer speakers. I plugged in the iPod, set it on 'random', and we had music. "It's just like a party!" declared Lilian. Followed quickly by "you should have a party". True enough, and we're thinking about dates. It was a beautiful evening.
I walked through the living room on my way up to bed, and turned round for some reason. Stepping backwards, I tripped over the rocking dolphin, fell backwards, and hit the side of my head against the fireplace. Or the grate. I'm not sure. And then I lay on the floor for a bit, reeling. Steven asked me if I was all right. I lifted my head just long enough to decide that I had better put it down again if I wasn't going to faint, and to notice that it was dripping on the floor.
Now, I remember from my brother's childhood that even quite minor head injuries produce startlingly much blood. But it's different when it's your blood coagulating in pools. I comforted myself with the traditional unguent of the fan editor: "At least I will get a fanzine article out of this." After a couple of minutes it stopped bleeding so much.
Of course, we went to casualty, leaving Lilian asleep in charge of the kids. I made several bids for freedom; first arguing that it wasn't really bad enough to take to casualty, then asking the receptionist if there was any point staying. An hour later, when we saw the triage nurse, I asked if I could go home and sleep, and come back in the morning if I needed stitches. The answer was clear; my head injury was serious enough that I couldn't go home without seeing a doctor, but trivial enough that they were going to deal with everybody else in the room first.
Friday nights are traditionally exciting at Whipps Cross A&E; but in fact, it was entirely calm and I was well-looked after. The only thing that would have improved my visit, apart from being treated more quickly, would have been some means of lying down. I really, really wanted to lie down.
By about 4:30, the crowd had thinned out, and I saw a doctor, who checked far more things than I'd have thought of, sent me for a skull x-ray, ordered me stitched up, and sent me home. We were home by six.
Just in time, in fact, for the children to wake up, excited at the prospect of going to Marianne's school "Fun Run"; a more peaceful, lower-stress version of a Sports Day. Steven was, astonishingly, even more shattered than me; so I took them. I instructed Marianne on what to do if I suddenly keeled over, showed her the Head Injury aftercare card the hospital had given me, and walked slowly around the fair, mustering all the delight I could in the bran tubs, tuppence rolls, ping pong ball tosses and duck hooks.
Posted by Alison at 07:03 PM | Comments (3)
June 14, 2003
A Ton of Fanzines
We were still dithering about the coffee machine when the gas barbecue turned up its toes. This was not something we could leave till we were back in the black again, so we've bought this very cheap one. Some Assembly Required, so we haven't had a chance to try out the cooking yet.
Meanwhile, we've fine-tuned the grinder for cafetiere, so our coffee is no longer gritty. But this is not a long term solution. My anti-consumer principles are being sorely tested.
I note that DWP has acquired two new Ministers of State; but as I wasn't in the office yesterday, I don't know which one is Minister for Work and which is Minister for Pensions.
I was chatting idly to intercontinental traveller Damien, who was considering what to do with a ton of fanzines. I wondered if I had been responsible for a ton of fanzines, but in fact I reckon only about 7 x 30 x 250 x 5.625g = about 300kg. We'll have to have some sort of celebration when the cabal has distributed its own weight in fanzines.
Things Keeping Me Using Windows Dept: Popcap has released the deluxe, Windows-only, version of Typer Shark, the new name for Word Shark. This is my all-time favourite typing tutor.
US Cultural Imperialism Out of Control Dept: The other day, my resolve slipped and I bought coffee at EAT. As I paid for it, I noticed 'granola bars' by the till. What on earth? It's a UK company, and we have a perfectly good name for that combination of oats, butter and sugar: they're called flapjacks. I've emailed them to complain, so I'll let you know what they say.
And we've spent the entire day today Feng Shui-ing the dining room. Or, rather; tidying it up, ruthlessly excluding everything that doesn't belong there, and installing an indoor fountain that we were given for Christmas. That last has a bit of a mathomy feeling, but never mind.
Posted by Alison at 06:15 PM | Comments (0) | TrackBack
June 01, 2003
The Last Day of May
A hot Saturday morning; almost too hot for pancakes (but not quite). After the whiny spell where the kids demanded to know why they aren't allowed to stay inside watching telly in beautiful weather, we settled down to a few hours of hanging around. Then over to Bridget Bradshaw's vacated family home (location for Farber Day), for a house cleaning and pizza party as they get the house ready to sell. We counted up our pennies, but it turns out that a large four-storey detached house in Hampstead is just slightly beyond our means.
We travelled to Hampstead by train assisted bike; we've not done much cycling this year and it was rather too hot to go the whole way. Instead we cycled to Queen's Road, and picked up the Gospel Oak to Barking Line, which we took to Gospel Oak. This is a bit of a Cinderella line; as it goes round London it's not useful for many commuters, and it spent many years being unloved. But now there's a cycle ramp at our station, and help points, and, most astonishingly, a special carriage for bikes and their owners, with tip-up seats to tie your bike to and enough space to turn a tandem inside the train. This line is unusual for London in that you can take bikes on it at any time, even during weekday peak periods.
Of course, when we arrived at Gospel Oak we discovered that cycling isn't allowed on any of the paths leading onto the Heath from the station. One in particular is road-width and would be a perfect shared path. So we walked our bikes up onto the Heath, picked up one of the few cycle paths, and then cycled over to Bridget's. Cycling is a great way to discover things you never knew; the Hampstead Heath Lido is right by Gospel Oak station, which means it's entirely practical for us to take the train over to the Lido on one of the rare days in which outdoor swimming seems like a good idea in London.
Posted by Alison at 09:17 AM | Comments (1)
May 31, 2003
That Pesky Album Art
The list of Not Found On Google cover art now stands at four; the Huw & Tony Williams mentioned below, two Early Learning Centre children's albums (Bop Till You Drop and Space Boogie, for what it's worth), and the first, self-titled Rose Among Thorns album. I'm sure the count of ephemeral kiddie music that nobody has ever bothered to produce a tribute website for will rise, too.
General appeal to the web: do any of you have a copy of The Circle and the Square by Red Box? This is now right at the tippy top of the list of albums I mistakenly bought in an insufficiently electronic format. Hey, it was 1986, ok? I didn't have a CD player then, and although I played my cassette until it was basically worn through, I didn't ever get round to replacing it with a CD. In the late 80s it was quite obvious that nothing would ever be deleted again and that all really interesting music would be available for ever. At any rate, either Red Box were ten years ahead of their time, or all the world-fusion-celtic-y music we're listening to these days is because every Brit of my age was imprinted on "Lean on Me" and "For America", both of which were huge hits.
My idle day of futzing about sorting music out on the computer was shockingly interrupted at 4pm, when the doorbell rang. "We're not expecting anyone," I said to the kids. "Oh, yes, you are," explained Pam Wells from outside the front door. I checked our various electronic and paper diaries, who nodded emphatically and confirmed that yes, they were all expecting Pam to come and stay for the weekend. Steven and I were, meanwhile, astonished. Luckily, she brought scones with her and seems broadly immune to chaos.
Posted by Alison at 02:10 AM | Comments (11)
April 13, 2003
Sue's 15 Minutes of Fame
It's a beautiful day. "I don't want to sit inside blogging and browsing the web on a beautiful day like this," I thought. "I want to sit outside blogging and browsing the web." So I'm now in the garden, watching the children playing in the hammock while Steven fixes the stabilisers on Marianne's bike. The garden's a bit of a sight, having had almost no attention this year, but it's still mostly ok as long as you don't look closely.
On Thursday Sue Mason and I went to the National Portrait Gallery for the opening of Self Portrait UK. Several thousand self-portraits were submitted from all over the country, and they chose 70 for the touring exhibition, of which one was Sue's biro picture of herself belly-dancing. Now, this looks exactly like a thousand other Sue fillos that you may have seen (plenty of examples here). But this one's in the National Portrait Gallery so we're basically thrilled.
The opening was jolly, and fell into three parts. First, everyone looked at the exhibition, somewhat subdued, sipping wine. Then they took us into a lecture theatre and spoke for a bit, and showed us some of the short films about the pictures that will be on Channel 4 next week (after the news). And then we all drank a lot more wine, all the artists started talking to each other, everyone said how much they loved each other's portraits, and so we continued until they slung us out and we waddled home drunkenly.
Our favourite self-portrait was by Suzy Mason (no relation), who'd submitted a Sainsbury's receipt and written 'You can learn more about me from my shopping basket than from my face'. Damn right. You can go and see the exhibition from now till July, and entry's free.
Posted by Alison at 01:11 PM | Comments (0)
April 07, 2003
Welcome to the Kittywompus Guest House
First, a couple of updates. Damien wrote to say that Jeff Vogel (who wrote Geneforge) is also the author of the terribly funny Story About the Baby, which is quite unusual in the ranks of New Parent diaries, because it actually does tell it like it is. A little secret about parenthood is that most of us lie about the worst bits. Not Jeff. Such genius.
And my search for more MPs' blogs may be in vain; according to the Guardian, Tom Watson is the first MP with a proper blog. It also makes clear that he's younger than I am. This ought not to be allowed; something is clearly wrong with the order of the universe. (And yes, policemen started looking younger a long, long time ago.) He has now e-mailed me to confirm that his is the only one at the moment, but believes he's just talked another one into it.
We finished Issue 29 of Plokta this weekend, thanks in no small part to Hydra, a collaborative text editor for Mac OS X. It's really creepy having Dr Plokta correcting your typoes from his PowerBook while you're writing. More detail in my comments on the Slashdot thread about Hydra. Yes, you'll probably get your copy at Eastercon, Minicon or Corflu.
And TAFF delegate Randy Byers is now staying with us, easing gently into his trip. He's touristing in London today and tomorrow, before heading off to Bristol tomorrow afternoon (but will be back in the smoke for the weekend). I eventually had to write down a guest list for the next few days, just to make sure we weren't going to run out of beds, bedding or towels (we're not, but it's a close thing). Turns out we probably have nine different guests staying at various times over the next seven days. So blogging may be reduced; on the other hand, I'll have lots of things to write about.
Posted by Alison at 04:38 PM | Comments (2)
March 11, 2003
Self-diagnosis
So, there I was, about ten o'clock last night, sitting around, watching Buffy, as you do. And I suddenly thought, "you know, it's possible that what I'm suffering from is glandular fever" (Mono, for Americans).
I've just spent thirty seconds googling, and I'm broadly certain (...fever, check, swollen tonsills, check, enlarged lymph nodes, check, general debility, check, achy limbs, check, initial acute phase lasting 7-21 days, check, ongoing illness and tiredness, check, often initially confused with bacterial tonsillitis, check...) I'm seeing the doctor later today in any case, but as there's no treatment I'll just be asking them to do tests and talking about how I can organise my life so that I can rest enough to knock it on the head. Er, preferably without taking any more time off work, either.
Update: the doctor said 'well, it may well be glandular fever, or it could be any one of a range of pesky viral infections that don't go away. And it might be something more serious, so we'd better give you a whole pile of blood tests. They'll probably all be negative.' And he told me that not resting is likely to make things worse. Hmm.
Posted by Alison at 10:02 AM | Comments (6)
March 06, 2003
And So To Bed
I cannot put my children to bed. Or rather, I can put my children to bed, but not so it sticks. Now that Jonathan's in a bed, rather than a cot, he can get out. And then he can go anywhere he likes. That would be Marianne's bed. Which would be ok if he went to sleep, but in fact they laugh, giggle, talk, play, fight and scream. For hours, punctuated by my putting Jonathan back in his bed periodically, and him shouting 'but I donwanoo gotobed' and getting up again straight away.
We don't need a bed for Jonathan; we need a cage. Which reminds me of one of the Great Mysteries of Our Time. Why is there a cage in the Sunnydale High School library? I mean, I know it's a book cage. Why would anybody want to cage books? They're a lot less dangerous than toddlers.
In other news, I raped Mike's iPod, thereby causing me to acquire mp3s of a lot of albums I used to own, and a fair few that I still own but had not got round to ripping yet. Also a lot of dodgy 90s easy listening. Mike, orderly person that he is, bought an iPod only after calculating how much space he'd need to rip his entire CD collection. I, on the other hand, thought '10GB of music; that's enough for anyone', and was, well, sorely mistaken.
But the rot has already set in; I've just ordered Gattaca after being reminded of its existence by listening to the soundtrack, and I've decided to go see Michael Nyman at the Royal Festival Hall in June.
Because having a lot of pirate music on your system reduces the amount you spend on music. Didn't you know? For example, Lilian pressed Lemon Jelly's Lost Horizons on me a few weeks ago. I'm going to take Marianne to their kids' matinee on Saturday, and I'm pretty sure I'll buy both albums and at least one piece of merchandising tat while we're there. I even have it on good authority that there are dancing moose.
Finally, I celebrated Flylady's "Reduce Your Credit Card Debt" week by doing more discretionary spending of money I don't have than I think I've ever done in a single week before. I don't want to say too much more until I'm holding it in my grubby hands, but the note in the coffee column about waiting to buy a Powerbook is just so last week.
Posted by Alison at 11:48 PM | Comments (5)
March 01, 2003
Department of Running Into People Unexpectedly
It had all been very difficult. So at the end of the day, I rang a colleague. "Fancy a drink?" "Not half," she replied. The closest pub was too full, and as we reached the second closest pub we ran into Debra Kerr. So there we were, two minutes' walk from my office and two hundred miles from hers. "Alison! What on earth are you doing here?" she exclaimed.
It turned out that Debra, Lucy Huntzinger, Alun Harries, Linda Krawecke, and Lucy's friend Trish were preparing to astonish Martin Smith later in the evening. Lucy had come over from California specially as a surprise for his 40th birthday party on Saturday. He was duly astonished, though with Martin, it's often hard to tell.
The party, at Avedon's, was jolly; Lucy had persuaded us in AIM earlier in the week that we should get a babysitter, so we attempted to remember the art of conversation. It's possible Buffy was mentioned; we wondered if we were the last people on earth to watch it and everyone else in the room looked around briefly and said 'yes'. I explained my problem with Willow, which is that her hair is dyed an extraordinary shade, and she's too unworldly in the first series to dye her hair. Joseph Nicholas then turned up doing his Willow impersonation, with his hair dyed an improbable shade of cheap magenta. Much reference was made to recent Guardian articles on turning forty, and we observed that Martin looks much older than Mike, but possibly not much older than Mark Fishlifter.
Posted by Alison at 07:14 PM | Comments (3)
February 24, 2003
MAKE a FORTUNE selling the detritus of your YOUTH on EBAY
Mike IMed me, to let me know that he'd sold our Cosmic Encounter set on eBay. This made me unaccountably sad. I haven't played the game for many years; I rarely play board games any more and when I do it's probably going to be Sorry! It was clearly Mike's to sell, for all that if I'd anticipated eBay I might have made more of an effort to hold onto some of the accumulated stuff when we divorced.
But, back when we were students, back when the Internet meant e-mail in the library, when we had no easy access to phones, televisions or cash, we were heading gloriously for thirds*, and did no work whatsoever. Instead, we played games of all kinds, including a great deal of Cosmic Encounter. When Mike describes it as 'frequently played', he's not kidding. And everyone except Mike drank endless coffee whilst playing; I'm astonished that only the rulebook is stained.
Oh well, in fewer years than I like to think about, Marianne will be old enough to play Cosmic Encounter, and I can get a shiny new set that only contains those rules that aren't totally outrageous.
Goodness, disc cameras were rubbish
*At the time, this seemed tragic. Now, it's scary to consider how our careers might have gone with better degrees.
Posted by Alison at 11:07 PM | Comments (3) | TrackBack
February 23, 2003
Productivity Slayer
A couple of months ago, Mark and Claire Fishlifter were explaining how they'd been hit by a Buffy productivity virus, and had slurped their way through the entire run of Buffy and Angel in less than six months. We smiled to ourselves. Of course we planned to get round to watching Buffy at some point, but we would do it in a measured fashion. There was no need to be excessive about this. We'd take it slowly. After all, people had been telling us it was essential viewing for several years.
Turns out it's crack. Who'd have known? The only thing that's stopped us watching Buffy around the clock is that we have to wait till the kids are in bed. Which is good; it means we haven't had any days that consist of 12 episodes of Buffy punctuated by occasional takeout. I'm sure we would if we could, though.
Expensive crack, too; as we were coming to the end of series two, with no immediate prospects of borrowing series three off anyone in the next few days, I dropped into Woolies; but the prospect of paying £80 for one series of a TV show was too much even for me. Yes, I know it doesn't work out as that much if you consider it as 22 episodes. And it's way cheaper on the web, though without the instant gratification element. But still.
So, instead, Dr Plokta and his mum are coming round for lunch, and Dr P's bringing series three and four with him. As well as owning six sets of extremely expensive DVDs, he runs a 2003 equivalent of an opium den; scoring the pre-broadcast satellite feed of Buffy off the web and inviting the Fishlifters and other Croydonites over to eat Chinese and watch it each week.
But he doesn't buy Angel, and most of the hardcore addicts I know watch each in turn. So I guess we'll still have to buy some of them.
Update: Well, Mike came round for lunch, but unfortunately left seasons three and four of Buffy on the train. Whoops. Beware South London luggage racks; very dangerous.
Posted by Alison at 11:44 AM | Comments (2) | TrackBack
February 02, 2003
Anti-Consumer Month is Over
We celebrated by getting in the car and looking at every child's bed available in South-East England before buying the one we first thought of. At IKEA on a Saturday afternoon.
The children were remarkably sanguine about giving up their entire Saturday to shopping. We did fetch up at the Hackney City Farm at one point, allowing them to see a slightly different variety of small farm animals from those at our 'regular' city farm, Brooks Farm in Leyton. We also had a really delicious, relatively cheap, lunch at their café.
It was a good thing it was reasonably cheap, because I'd neglected to bring out my purse, so we just about managed to scrape together enough from the bottom of my handbag, pockets, glove compartment, etc. to pay for the meal. I reallly regretted not having enough cash to bring home a box of fresh laid duck eggs. On the extensive community noticeboard (all greenish alternative ventures have one of these) I noticed an ad for The Back Passages of Spitalfields, described as "like a guided walking tour, only good". I'll look out for it running again this summer. Update 6/4/03: The people behind the Back Passages wrote to let me know that the walks have started up again for 2003, and that all the details are on their website.
Having no cash meant that we couldn't buy any drinks or ices in IKEA, but as we were driving home, complete with large lumpy packages, we spotted a new Borders complete with Starbucks. Which takes credit cards. So I ended up with a Venti Mocha Valencia. Serious error of judgement. Chocolate & coffee is a good mix. Chocolate and orange is a good mix. Chocolate and coffee and orange isn't, and besides, once you've put a bucket of whipped cream and half a pint of chocolate sauce on top this is really a pudding, not a coffee. I could easily give up several of these a day.
Now, in preparation for making Jonathan's bed, we're cleaning all the not-Jonathan stuff out of his bedroom. This includes all our vinyl. We've never had a working turntable; not in this house nor the last one. We're quickly ditching the singles, the albums we've already got on CD, and the albums we can't imagine why we bought in the first place. Next, we'll make a list of those of the rest that are easily obtainable on CD, and plan to get them (or definitive collections of all the good tracks in some cases). We'll probably keep those that are unavailable on CD. Probably.
Posted by Alison at 11:25 AM | Comments (1)
January 20, 2003
Staring into the Abyss
"When will we three meet again?" Oh, sometime in the summer. Maureen Kincaid Speller, Bridget Bradshaw and I had lunch and discussed the business of the League of Fan Funds. Now complete with bank account, we seem to be better at collecting money than disbursing it. Though not for long. Watch out for a website in a week or two; and it may well look quite a lot like this one.
After they'd left, I went into full-on Domestic Goddess mode, baking a proper birthday cake, biscuits, fairy cakes, and Cheesy Orange Pigs.
The birthday cake had no icing in accordance with Marianne's wishes; but was filled with whipped cream and strawberries and raspberries. Which was all a lot better for the adults; and the children no more eschewed it than normal for birthday cake.
Had a brief chat with Kim Huett, luckily Not-at-all-Singed of Canberra. A close call, though, with damage only a few streets away. Also chatted to Dr Plokta, whose brother is in Canberra, and who has a brand new blog, Ask Dr Plokta. The blog appears to be very, very geeky; his switching journal is very much more technical than mine, for example. He mentioned that Steve Davies has taken the plunge and bought a Powerbook; which means that the Plokta households are 3/4 Mac now. And he suggested that I should be mounting my Windows shares with SMB Browse, which works ever so much better than the Finder.
I've discovered another interesting feature of Marianne's globe; it shows the International Date Line. Which appears to be rather more complex than last I looked. I was inspired to set a small trivia question. Supposing you want to sail a great circle route past the IDL in such a way as to cross the line as often as possible. What route (roughly) would you choose, and how often would you cross the line?
And this afternoon came the onslaught. Along with Caroline Mullan and Max, we fought bravely against the legions of battle droids, but were hopelessly outnumbered. After we'd cleaned up the devastation, Steven and I sat down to watch Attack of the Six Year Olds. Or something like that.
Posted by Alison at 12:56 AM | Comments (7)
January 17, 2003
Even Minutiae are Limited on Weekdays
Yesterday I suffered from unaccountable melancholy; so I got enough sleep, got up today at a sensible time, took my vitamins, ate proper meals with lots of fresh fruit and vegetables, and cheered up a whole lot.
Picked up coffee at lunchtime, and also a loaf of nut bread and a (great) sandwich from the French bakery. Also more fruit and tea bags, and I broke my anti-consuming resolution by getting a cheap-in-sale china tea mug with integral strainer and lid. Which was worth it; the black tea tastes a thousand times better. It's partly the heat, but I also think it's partly the china; it cools the tea much less than the old mug. My grandmother would only ever drink tea from a china cup. She only ever bought one sort of tea, too; broken orange pekoe packed into miniature tea chests and sold in London by the now defunct Ceylon Tea Council. (A couple of years ago, remembering some but not all of this, I established the rest of the tale by talking to a man at Fortnum & Mason who knew everything about tea.)
When we got the coffee home, we helped Marianne find where it was sourced on her globe (Ethiopian Yirgacheffe, roasted today, and an organic Ugandan, if you're interested. I've never had Ugandan coffee before). Turning the globe, she said "That's China! Like in Mulan. Where did the Huns come from?" The globe also plays music for each country, but my faith in this feature was severely bashed when I failed to recognise the British music. There are two tunes for Britain; one is 'Greensleeves', and the other... isn't. Of course, the two most likely tunes, "God Save the Queen" and "Land of Hope and Glory", have both been appropriated by the Americans for other purposes. And my guess is that "Jerusalem" would just confuse people.
I had various plans for this evening; a soothing bubble bath plus book, or curling up with Steven and a nice film. Instead, I spent much of the evening registering for Fast Track for the two of us, on the Congestion Charging website. This site loads 35 different graphic elements every time you load a new page. And you will have to load at least a couple of dozen pages to register, as long as you're careful not to explore any of the options. Whoops! Was just about to mention my views on congestion charging. A narrow escape, eh?
Posted by Alison at 11:11 PM | Comments (0)
January 13, 2003
Vertical Blinds
On Mondays, I get my fifteen minutes of exercise before breakfast. After dropping Marianne off at school, Jonathan and I went shopping. A package from the post office turned out to be a moose from John Dallman, which Jonathan fell on with great glee. We dropped off four huge bags of clutter at Scope, a charity which benefits hugely from having the nearest charity shop to my house.
Spurred by feelings of maternal guilt inspired by the bookshop comments thread on Electrolite, I registered myself and my children for Walthamstow Central Library, and borrowed a variety of picture books and the DVD of Attack of the Clones.
Many secret purchases for Sunday's party later, we picked up Marianne and returned to the house exhausted. Steven then bounded in, swept us all up and off to Bluewater to look at curtain poles and curtains for the living room. We chose curtains (from M&S) which weren't in stock, and stopped just short of buying a bespoke pole to cover the full five sides of the bay. Even so, the pole and curtains will cost as much as, oh, a small swimming pool of Starbucks. Perhaps we should have gone for vertical blinds.
And so to bed; in fact, I fell asleep before we got home, and woke up only just long enough to get from the car to my bed.
Posted by Alison at 11:59 PM | Comments (0)
January 12, 2003
72% Formatted
On rising I found Lucy Huntzinger on iChat, staying up very late. She explained that she found all my Mac evangelism very amusing. Resisting the temptation to spend all day online, Steven and I followed Flylady's prescription for crisis cleaning. 15 minutes here, 15 minutes there, occasional 15 minute breaks, use a timer to keep on track. Marianne helped while Jonathan hindered. The house looks quite changed; the living room, hall, kitchen, downstairs loo and Marianne's room are completely respectable now. This has finally got rid of the vast majority of the pine needles, allowing me to return to the dancing game. Our main meal, spicy chickpeas and rice, felt very January. And so to bed, leaving the gargantuan hard disk 72% formatted.
Posted by Alison at 11:59 PM | Comments (1)
An Apolitical Blog
Avedon writes, "I've hesitated to add Alison Scott's Macadamia to the blogroll because it's so apolitical (a requirement of her job, alas)". I thought I should explain a little about this, for those who don't know. I'm in the 'politically restricted' group of civil servants, which mean that I'm prohibited from undertaking various activities, including:
holding, in a party political organisation, office which impinges wholly or mainly on party politics in the field of Parliament or the European Parliament; speaking in public on matters of national political controversy; expressing views on such matters in letters to the Press, or in books, articles or leaflets; being announced publicly as a candidate for Parliament or the European Parliament or on behalf of a political party.
Now, you will notice that this says nothing about the Internet; and it's largely unchanged from when I first started worrying about this sort of thing. I was posting to rec.arts.sf.fandom, back in about 1993 or so. Certainly, the odd chunk of political argument slipped out among the thousands of Usenet posts I made, but archiving was a bit dodgy at the time. I did consider, then, asking about their view of posting to Usenet on political matters, but I thought that if they thought about it, they'd probably decide it was a bad idea.
Blogs feel rather more clear-cut to me; it seems incontrovertible that a blog in my own name is equivalent to 'speaking in public'. So, if I slip and inadvertently express an opinion on a matter of national political controversy, rest assured that it's a mistake. Of course, to some extent this is a front; I have little urge to write about political subjects in any case. On subjects other than my speciality, my intellectual deficiencies are too painfully obvious to me. When the argument moves into my field, I struggle both with the difficulty of making cogent points that can be understood by somebody who's never studied the area, and the need to not talk about things that are not public knowledge, such as proposals under development or not-yet-published research.
So what do I want to write about? Well, clearly short essays on subjects that interest or trouble me, but that aren't political. Mail order, for example. But reading Pepys, I wonder if I should also record the minutiae of my day:
Saturday was fine and cold, and we drove with some difficulty to Croydon. The entirety of South London is covered with roadworks. We gathered up Mike Scott and went to the best Indian restaurant in an undistinguished Croydon suburb. There we met Mark and Claire Fishlifter, and Pat McMurray, who eat there so often that they have a loyalty card. We had a cheerful, rambly conversation. Back to Mike's, who showed me Weather Pop, a menu extra for those of us who are so computer bound we never look out of the window. We watched Princess Mononoke, ate a very small supper, and then drove home while Marianne quizzed us thoroughly on the motivations of characters. "Why does the Great Forest Spirit become the Night Walker?" On arriving home I chatted with Damien Warman, who was resting before going out to a Thai restaurant. We marvelled at Safari, now with an updated beta. And so to bed, though not till about 2am, which was very foolish.
Posted by Alison at 11:08 AM | Comments (2)