« Needs an Alarmist and Armageddonist Factoid, Vern | Main | More on Neat Image »
June 23, 2006
Friday Roundup
A weekly roundup
Last weekend: It is with the greatest difficulty that I resist telling you in detail how the Oysterband are the best band of all time. And there's a new album coming out! I had a fine time at the Big Session, but the rise of MySpace means you don't tend to discover new bands at this sort of thing. Nizlopi felt like a bit of a disappointment to me, but I enjoyed The Eighteenth Day of May.
Being away for the weekend meant that we missed this week's Doctor Who, Love and Monsters. So I came back to equal parts delight and outrage amongst those who had partook in the Shared Cultural Experience.
Two years ago, Orbit launched a tandem, the Zodiac, with 20" wheels, designed for an adult and child to ride together. We knew that at some point we'd need a second tandem, but we dithered, and meanwhile Orbit took it off the market again. A few weeks ago Steven spotted someone selling a nearly-new Zodiac for rather less than half price, and on Monday he drove over to Oxford to pick it up. So we are now a two-tandem family, though we haven't ridden anywhere in earnest yet.
Wednesday: The school Marianne is likely to go to has a Greek theatre (built in the 20s when these things were popular) in its grounds. And we went to see the Greek Theatre Players perform The Merry Wives of Windsor in the round in the open air. It was great; excellent performances particularly from Peter Wilson as Falstaff, and Melissa Quinn and Pamela May as the wives; but a generally good cast having a good time. Amazing costumes that would be far beyond the means of amateur theatre turned out to be loaned from the RSC.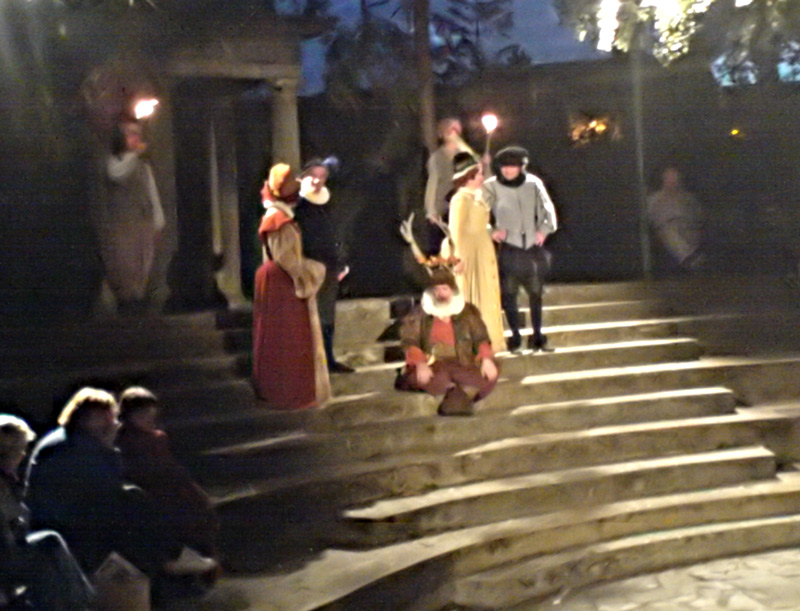 Taken with my Sony K750i camera phone, and cleaned up with Neat Image, which I have now bought (though this was done with the demo)
I mused on the payoff that comes from having been a philistine; I've never studied The Merry Wives of Windsor, or seen it before. So I laughed at all the low humour, marvelled at the things that never change, and generally had a fine old time.
Also on Wednesday I read an article about David Gardner (not this one), who had his leg blown off in the Tube bombing last year. He explained how he'd had a great year, how he'd resolved to have everyone who came to visit him in hospital leave happier than when they arrived, how he felt sorry for the bombers' families, how pleased he was to be acting again, and how he was determined to run again in a few more months. The whole thing was really cheering, and I resolved to cultivate a more optimistic outlook.
From Dubious Quality I learn that the Ghanaian government ordered that gold production should be scaled back by 50% on Thursday to ensure that the country could power all the televisions tuned to the World Cup match wtih the US.
This week I have been reading self-help books; in particular Julie Morgenstern's Organizing from the Inside Out
and Brian Tracey's classic anti-procrastination tome Eat That Frog!
As well as Eat That Frog, my executive coach recommended Today I ate two frogs: I finally got round to seeing my doctor about various trivial complaints that Aren't Getting Better, and I got my hair cut.
This weekend: Plokta!
Posted by Alison Scott at June 23, 2006 08:50 PM
Comments
Post a comment