« Splitting Headache | Main | Something For the Weekend »
July 01, 2003
The Road Less Travelled
Not that we had tickets for Glastonbury anyway. But at any rate, it's the Worldcon of festivals, and so not our sort of thing at all. Instead we were at the altogether more cosy Crawley Folk Festival, set in and around the Hawth theatre in Crawley. Weekend tickets were a wallet-crunching £14, and allowed us to camp "wherever you can find a spare bit of grass". As we arrived late, we pitched our tent in a far corner, meaning it took us almost two minutes to walk from there to the main stage.
And the music was fine. We were drawn to this particular festival because the very wonderful Jim Moray played on Saturday, on the smallest of the four stages. His new album, Sweet England is released today, and this concert was free to all comers.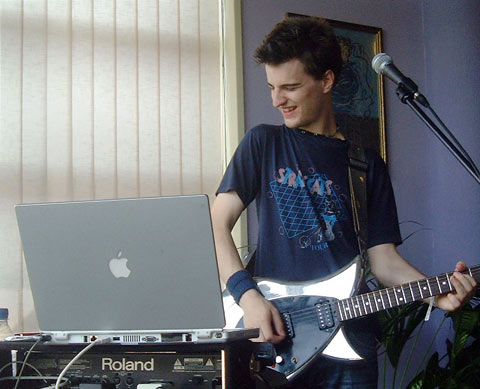 Can you spot the PowerBook in this picture?
There was lots else to enjoy, though. We particularly liked Carreg Lafar, who are a Welsh version of lively Celtic bands like Runrig. Steven managed to follow most of the songs; I let it all wash over me, but my fannish training came in handy for songs like Ceiliog Ddu.
Billy Bragg headlined Saturday night, with a blistering set that mixed up his own songs with his settings of Woody Guthrie's lyrics, and plenty of entertaining patter. He was supported by Alasdair Roberts and Gareth Eggie, who were startlingly good but appeared not to have CDs with them. Also recording-free were Dr Faustus, who I'd read about after hearing Benji Kirkpatrick with the Oysterband earlier in the year. They played in blistering heat on Sunday afternoon, while we drank the last of the beer and rested in the shade.
I was sad to miss The Boxhedge Clippers, who specialise in singing one song in the style of another, and have an album called Topiary in the UK. (mp3s of "Anarchy in the UK" and "Hit Me Baby One More Time" on the website should give you the idea, though the latter reminds me of a less edgy version of The Ukrainians. Who, interestingly, also have part of an mp3 of "Anarchy in the UK" on their site.)
We also heard a little of supergroup Blue Murder, who finished the festival; sadly, delicate vocal harmonies proved too much for my indelicate children, who were strung out and whiny by this point.
All this was glued together with plenty of other bands, a real ale tent with twenty different beers, craft workshops for the kids, and glorious sunshine.
Posted by Alison at July 1, 2003 12:33 AM
Comments
Less Edgy?
I know he was with U2 but never the Ukranians - did he play with the Wedding Present as well?
Love
Starters
Posted by: The Boxhedge Clippers at December 22, 2003 09:45 PM
Post a comment