« Things I've Learnt Today | Main | Testimonial: eFrame.co.uk »
August 28, 2007
Too Old For Shooting Roots
We're now squeezing the last drops of summer out of the tube, and have just spent a very long bank holiday weekend in splendid weather at Towersey. An exceptionally long weekend because one of the special secret features of Towersey is that although the official opening isn't until Friday evening, you'd better be there Thursday afternoon if you want to find space for a family tent on the campsite.
The festival was a box of delights all round. Marianne disappeared into Shooting Roots on the first morning and really only came back for money. Jonathan was delighted by a variety of children's entertainers, and learnt rhythm in a series of percussive events, each time returning with a larger percussion instrument made entirely out of junk. All of this meant that we spent much of Monday afternoon in a succession of gala performances by our children. I know, I know, these are precious moments that we won't get back... but wouldn't the French dance workshop have been one of those too?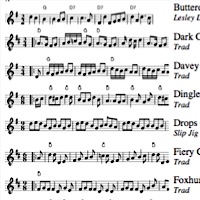 The highlight of the festival for me was Simon Care's massed English tune sessions. These were slightly more advanced than David Oliver's beginners' sessions last year, but great for improvers. Simon stuck strictly to popular English dance tunes in G and D, played at a steady tempo and repeated 4 or 5 times rather than the more common 3, making it so much easier to pick up tunes. He encouraged everyone to join in, and advised people to play a G or a D if they were feeling lost. The Saturday session felt easier than the Sunday session, with a slightly stronger focus on extremely well-known tunes , and both were attended by well over 100 players, with people playing a huge range of instruments. I didn't spot any bagpipes this time, but there was a woman playing what appeared to be a stick and bucket.
Anyway, I grabbed Simon's setlists at the end of the second session; they're more an aide memoire and aren't complete or in the right order. But if you're looking for a primer in English tunes, this should be a good list to start with. All should be easily available in abc format online (I'd expect the vast majority to be in the Lewes favourites), or readily available in commercial tunebooks. If abc seems a bit hard, then you can see a .pdf version of the dots for 25 of these tunes by clicking first on this link to the Sheffield Ceilidh Society and then on the 'Downloads Selected as PDF Tunebook' link on that page. Though of course the dots are of only limited use without having versions to hear.
Saturday: Oats and Beans and Barley Grow, Hullichan Jig, Winster Gallop/ Rakes of Mallow, Cock of the North, Soldier's Joy, Tip Top Polka, Uncle Bernard's Polka, La Russe, Davy Davy Knick Knack, Galopede, Jimmy Allen, Blaydon Races, The Quaker, 3 Jolly Sheepskins/Speed the Plough, When Daylight Shines, Salmon Tails, Nutting Girl, Jenny Lind, Off to California, Fiery Clockface, Lemmy Brazil's. (Simon also lists two I don't remember: Om si the Gom (Not for Joe) and Shepherd's Hey, and one I don't know and can't identify: John & Pollys)
Sunday: Rogue's March, Off to California, Orange in Bloom, Varsovianna, the Curly Headed Ploughboy, Dark Girl Dressed in Blue (Duchess), Harpers Frolick, Highland Mary (Bampton), Horses Brawl (with the usual bunfight over the B's in the third part), Salmon Tails, Young Collins, Drops of Brandy, 3 Jolly Sheepskins, Buttered Peas, Brighton Camp, Irish Washerwoman, Old Mole/Picking up Sticks, Oyster Girl, Donkey Riding, Sir Roger de Coverley. We also played 'the Dorsetshire version of the Steamboat', which none of us knew -- Simon explained that he suspected Phil Beer of writing 'Dorsetshire versions' of famous tunes, and that this might be one such. (Also on the list, but unticked because we didn't do them, are Davy Davy Knick Knack, Gallopede, Foxhunters, Banks of the Dee, Lads a Bunchum, Napolean, William and Nancy, Over the Hills, Portsmouth, Jockey to the Floor, Getting Upstairs. And I'm pretty sure we did Dingle Regatta on at least one day, but it's not on either list).
'Too Old for Shooting Roots' was Simon's highly appropriate name for the session. We thought that could profitably be expanded into an entire stream at a festival, called, say, 'Gone to Seed', in which adult learners try out all manner of folk arts in a supportive environment with tutors of our own age. A key feature would be the showcase at the end of the weekend, where we would perform and our kids would be forced to come along and watch proudly.
Posted by Alison Scott at August 28, 2007 11:18 PM
Comments
Post a comment