« Too Old For Shooting Roots | Main | July and August Music »
August 29, 2007
Testimonial: eFrame.co.uk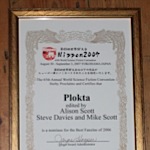 One of the nice things about having a blog is being able to do the odd product review. Now, I have a house full of odd bits of artwork and other things that need framing. Some of them are 8x10, or A4, or can somehow be coaxed into a mat and a standard frame size. But lots can't, and I find myself down at the local frame shop Giving Them All My Money.
The standard advice on this is to make your own frames, but honestly, life is too short. I don't get that many frames. What we need is a website that makes frames to order and sends them to you for a reasonable amount of money.
Enter eFrame. You put in the exact length and width of the thing you want framing, and they sell you one of a wide range of frames. You have great control over frame mouldings, mounts, and so on. I tested it out, tentatively, with the rather nice and quite oddly-sized Hugo Nominee certificate that came in the post the other week. The frame, without mount, arrived after a little over a week, and fits perfectly. Total cost, including a hefty p&p that would be much reduced by buying several frames at once, was about twice what you might spend for an A4 certificate frame. That's about a third of the amount I spent when I last had a Hugo certificate framed. The frame's nicely made and came with picture hanging string and loops for me to fit once I'd added the picture.
Posted by Alison Scott at August 29, 2007 08:10 PM
Comments
Do you ever go to the Focus show at the NEC?
We just came back last week , we run a small photo graphy business - so price/quality is very important to us. For price and quality these are the top 3 to use (for frames and mounts)
www.cartermount.co.uk
www.cotswoldmount.co.uk
www.cadremont.co.uk
How much were you paying for shipping ?
Posted by: Dave at March 20, 2010 10:28 PM
Post a comment