« This App Will Change Your Life | Main | Wonders of the Modern Age »
May 22, 2004
If You Can't Be Good, Be Lucky
We've spent the last three nights at Bush Hall in Shepherd's Bush, watching Oysterband and guests recording material for a live album to follow on from their 'Big Session' tours. (Previously blogged here).
It's been unseasonably warm in London this week, and it was certainly unseasonably warm in Bush Hall, particularly on Wednesday. But we had fun nonetheless. The gigs weren't advertised, though they were listed on the website and mentioned here and there. There were about 60 people there the first night and 100 on each of the other two; of those, perhaps 20 went all three nights. These were sedate and seated gigs, and there wasn't much dancing; I did get up for a dance or two on two of the nights, but we were a small minority. There wasn't much singing along either, though we're promised that we'll sound like many more people on the eventual recording.
On each night, Oysterband started, playing a couple of songs from Rise Above (with help from piper James O'Grady), before introducing a first guest. For the first two nights, this was June Tabor, in each case doing Mississippi Summer (from Freedom and Rain), Sarah Makem's Factory Girl (which is on the 25th anniversary album), a splendid version of Love Will Tear Us Apart (duetting on the vocals with John Jones) (not recorded anywhere as far as I know), and White Rabbit (on June Tabor's collection of sessions On Air). Then a bit more Oysterband, joined by The Handsome Family on Wednesday. I was grateful for having downloaded some Handsome Family from eMusic and their own website; I think I'd have found them a bit incomprehensible otherwise. Even so, the vocals were pretty muddy on the tracks played with the Oysters.
After the break, another guest; Show of Hands on Tuesday, and Eliza Carthy on Wednesday and Thursday. The gigs featured two entirely different songs called "Country Life"; surely deliberate, with Show of Hands and Eliza Carthy with Oysterband respectively. Rose Kemp appeared on Wednesday, just for a few songs, and didn't do any of her own stuff.

There were a couple of a capella songs that were new to me -- and new to most of the singers, judging by the number of lyrics sheets being held.
The first two nights were more the same; I think on the third night they'd realised that quite a lot of people had come to all three sessions, and were quite a bit more varied. Flick could only come on Thursday night, and was well-rewarded. Jim Moray flew down from Scotland, on his one day off from the Richard Thompson tour, to join the session. According to JJ on Tuesday, his manager's told him to stop taking his PowerBook on stage because it 'makes him look like a technonerd'. Shame. We like technonerds.
Full set lists:
Tuesday: Uncommercial Song, If You Can't Be Good, Blackwaterside, Mississippi Summer, Factory Girl, Love Will Tear Us Apart, White Rabbit (the last four with June Tabor), My Mouth, Everybody's Leaving Home, Tumbledown/O'Farrell's Farewell to Limerick/the Quernstone Reel, By Northern Light. Show of Hands: Reynardine, The Train/Santiago/Soldier's Joy, (with Oysters) Country Life, We Shall Come Home, John Barleycorn (with everyone). When I get to the Border (June + all the fiddles), The New Jerusalem (everyone), 20th of April, (a song I don't know the name of by Show of Hands), Deserter (OB&SoH), Cornish Farewell Shanty (everyone)
We hung around like groupies afterwards, and were well rewarded with chances to chat to the band. I was completely tongue-tied in the presence of John Jones, who I've only been obsessed with for a decade or so, and have never quite had the nerve to speak to before.
We also spent some time chatting to denizens of the Yahoo Oysterband group, some of whom were wearing the group "When I'm Up... I Won't Get Down" t-shirt.
Wednesday: Uncommercial Song, If You Can't Be Good, Blackwaterside, Mississippi Summer, Factory Girl, Love Will Tear Us Apart, White Rabbit, Molly Bond, Handsome Family: Weightless Again, HF & OB: House Carpenter, White Haven (and possibly one other?). After the break: Eliza Carthy: The Grey Cock, (with Ben Ivitsky & the Oysters & Rose Kemp): 10,000 miles/The Hungarian March, Just as the Tide Was Flowing, Willow Tree, (with everyone) John Barleycorn, (June Tabor & James O'Grady) Lowlands Away, (everyone) New Jerusalem, (most people) Tumbledown/O'Farrell's Farewell to Limerick/The Quernstone Reel, (June & fiddles) When I Get To The Border, (everyone) All Along the Watchtower, (Oysters +Eliza +Ben) Country Life, (everyone) Cornish Farewell Shanty.
We hung around again; and this time got to chat to Eliza Carthy: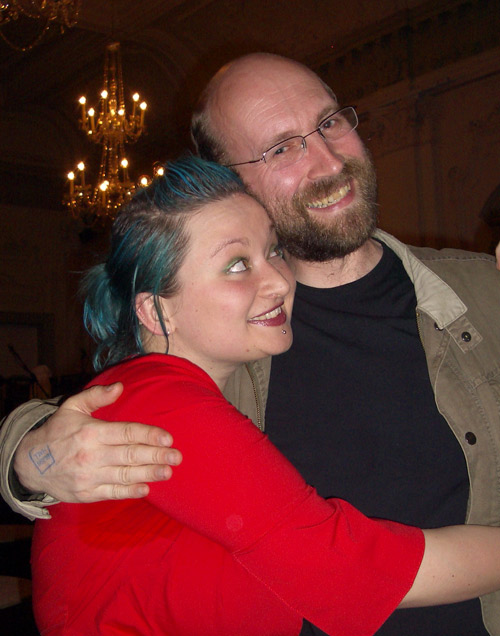 We also spent a little while talking to Ian Telfer, who explained that they'd been working incredibly hard all week and were completely knackered as a result; nearly all the songs had new arrangements (and often different arrangements on the three nights), and it was hard work just keeping track of everything. He also mentioned that the sessions were being underwritten by the German record company that was planning to put out the CD -- but it would at least be available through the website.
Thursday: I've misplaced my notes, complete with speculatively ribald scribbled conversation with Flick. What I remember: The Soul's Electric, If You Can't Be Good , Everybody's Leaving Home, a James O'Grady solo (Etna?), an Alan Prosser solo, Molly Bond, then Jim Moray: Gypsies, Sweet England, (with Oysters) Cuckoo's Nest, Oysters (with Jim): Milford Haven.
Eliza: The Grey Cock, 10,000 Miles/Hungarian March, JJ:Thousands or More, Eliza: Just as the Tide was Flowing, Willow Tree, Jim Moray: Poverty Knock, Eliza plus fiddles/viola and guitars: Fuse, Everyone: John Barleycorn, New Jerusalem (everyone, even down to George the Roadie), Road to Nowhere, Cornish Farewell Shanty.
Oh, you were wondering what I remember of the speculatively ribald conversation? You'll just have to guess. And by rights, I should have a photo of Flick with Jim Moray for Thursday night -- but sadly, we didn't get to chat to him. I am sure he noticed me wearing my shiny new Jim Moray t-shirt, though.
Posted by Alison at May 22, 2004 07:55 PM
Comments
Alison,
FYI
The Show of Hands number me thinks was "Is Everything Alright" and the Handsome Family track was "When That Helicopter".
He does love a cuddle JJ - you could almost mother him can't you - LOL
Luv and Cheers
Jen
Posted by: Jen at May 23, 2004 11:03 AM
Post a comment