« June 2009 | Main | June 2012 »
May 28, 2012
Summer's just around the corner
Actually, it's Right Here, Right Now; for anyone not in the UK, or in the future, it's fantastically hot and sunny this week. This is because the bank holiday and half term have been moved to next week. When it will rain. Oh yes.
Anyway, it's about to be festival season! Chippenham Folk Festival will be the first of the year for us, so we need to air our camping gear and pack up our instruments.
The festival I'm looking most forward to this year is the reimagined Big Session, now on a greenfield site in Derbyshire and being run by Mrs Casey (who also do Towersey). I don't *think* it will be as big or as crowded as Towersey! It would be hard if it is, because it's still in school term and it's not close. But the lineup is looking really good and it's always been a very lovely, chilled festival, with a great family area, excellent beer, and a lovely crowd. It also remains good value for a festival, though is not as cheap as it used to be (is anything?)
I've pulled together a massive Spotify playlist of bands playing at the Big Session, mostly so that I can listen to it on 'shuffle' to keep an eye out for the people I don't know.
Rest of the summer plans (still not quite firm): the English Country Music Weekend, Cropredy, Castellans Folksommer, Broadstairs, Tegeingl, Towersey. Ish.
And because I don't believe that free mp3s are *quite* obsolete yet, you can get the full version of one of Jonathan's favourite pieces of music in the whole world completely free from last.fm at the moment:
Posted by Alison Scott at 11:54 PM | Comments (0)
May 27, 2012
State of the Garden
The garden is very lovely now, though still short on plants. We have a large mostly empty bed in which some wildflowers are growing; we'll shrub it up this winter. The roses are looking nice; the climbers are a bit wild and the wisteria didn't flower this year. I have some tomato and squash plants in pots, and hardy fuschias. But still, lots of space. The lawn is green and lovely, thanks to several weeks of continuous rain. It will be interesting to see what happens if the hot weather continues.
We bought a shed light and a string of rather twee fairy lights from Powerbee, who Amazon customers rave about and who were very nice on the phone. Actually useful solar lights for modest cost! It's like the future or something.
The garden furniture is looking very shabby, and the gas barbecue no longer heats evenly.
A sequence of pictures rather than a video today -- The House of Automata. From Frostfox, and celebrating this place.
And I've started Pinterest. I am not sure I quite have the hang of it. But anyway, there they are. This may be the shortest time I've ever spent with a hot new website, because there doesn't seem to be any way to get my pins *out* of Pinterest, and say, onto my sidebar here.
Posted by Alison Scott at 09:42 PM | Comments (0)
Gamer Mom
I've been thinking for a couple of days that I should write something about Gamer Mom. OK, backtracking a little for non-gamers and people whose gaming is confined to games that are primarily for entertainment. There is a genre of games that are really about handling a hard-to-discuss topic through the medium of gaming. Most of them I find a bit shallow, but I think this one is rather good. This is a game about family breakdown and personal obsessions. I haven't won it yet (you win by persuading your family to join you in a game of 'World of Warcraft', which sounds like an odd sort of victory to me, but there you go) but I've spent some time trying. I find the actual time spent playing distressing; anyone who's ever spent any time in any sort of human relationships will recognise a lot of the responses.
A commenter ('mechtroid') on the excellent gaming blog Rock, Paper, Shotgun, checked out the source code and discovered a massive easter egg; the comments include the author's story of how he came to write the game based on his personal family experiences. He's (no surprises here) a videogame-monologuing Aspie who struggles to engage his family in the things that interest him.
I had two major insights from playing the game and reading the backstory. The first harked back to the parenting course we did last year, Webster Stratton Incredible Years. One of the first things the course teaches is 'special time', which is short, daily, and (critical this) child-led. Now, with Jonathan we had to put some restrictions around gaming, so that he could not choose, every day, to play games on the iPad while we watched. But even so we allowed some of that. The author of this game, despite now being in his 20s, never got enough 'special time' with either of his parents. He's still living with them, and he still doesn't.
The second is that we're all gamers round here; and my family were all gamers too. I'm sure there are lots of ways in which our family is odd, but we have this; playing games together is just part of what you do if you're a family. Eating meals together without electronic devices at the table, too, but I think that's another story.
Posted by Alison Scott at 11:00 AM | Comments (0)
May 26, 2012
Resonance
I've packed the family off to the London Shogi Club this morning.
Obviously everyone in the world has linked to Neil Gaiman's commencement speech, but I'm going to as well. Much of the advice in this is for people contemplating careers in the arts, but not all, and the bit that really resonated for me was the section on doing great work, doing things on time, and being a good person to deal with. tl;dr spoiler -- you can get along fine with any two of those three. My observation is that people with only one of those three really struggle, but if they're superlative in that area even that might just be enough. But two out of three is fine.
Speaking of really resonating, this week I have learnt a great deal about resonant frequency in MITx, and also started working with the operational amplifier abstraction. (Almost the first time that MITx has completely ignored the underlying maths and said -- ok, you can see how these work if you like, but for this course, you need to just assume that an artefact with these properties exists, and then learn how to analyse circuits containing it). In Udacaity CS212 we worked through a solver program for Scrabble or Words with Friends (ie, given a hand, a board and a dictionary, what are the top scoring moves?). That was mostly demos, but the homeworks included coding a Boggle solver. Which was pretty cool. Finals coming up this coming week in 212, and the following week in MITx. I may need to get Steven to take the children out for a day to do the final, as it's during half term and I need several hours of uninterrupted peace and quiet with a reliable internet connection.
No MITx in the summer, which I think means I'll be able to do at least three Udacity courses at once next hexamester. (The lectures in MITx are typically 2-3 times as long as the lecture set in a Udacity course, and each week has homework and a lab).
And a little plug -- my favourite interactive fiction writer, Andrew Plotkin, has released an IF game for iOS, Dreamhold. It's free (to encourage people to try out IF, or text adventures as we used to call them), and is designed to include both handholding for beginners and challenges for experts.
Posted by Alison Scott at 09:52 AM | Comments (0)
May 25, 2012
A million ways to make coffee
Our Bodum electric Santos has, I think, finally given up the ghost. The last jug is leaking coffee into the electrics, which is sort of terminal. I have set up a zillion eBay searches to try to catch these, but still one sold the other day without my noticing. I haven't given up hope, though 12 cup Santos in good condition sell for more than their new value these days in the US. We do still have one of the smaller ones somewhere, tucked away for emergencies (like this).
This might or might not be related to my drinking at least twice as much coffee at home as I was six months ago.
In the meantime, we are going to try a Chemex CM-4, sourced from Has Bean. It will fill a sort of 'bigger version of Aeropress' niche in our lives, and people seem to like them very well. But it's not fire and forget like the eSantos.
Food notes -- a chicken & peanut stew defrosted on Wednesday; this hadn't been frozen for terribly long but had lost some texture so that the sauce was much thinner. It had been a very 'what can I make from stuff in the house' dish in the first place, nothing special but perfectly tasty. Greens Frittata with mozzarella and prosciutto on Thursday. I originally sourced this recipe by searching on things we needed to eat up, but it's very tasty and got a permanent place. Obviously the greens can be anything green, the mozzarella could alternatively be feta, taleggio, gruyere or even cheddar, the prosciutto could be ham or bacon or anything of that kind. In this case, I had slightly run out of meals to cook the day before the groceries came, but we had plenty of eggs and greens (rainbow chard), some cheap mozzarella from Lidl, and the last two tiny chorizo. It was very nice but didn't set in the limited time I gave it; I've scribbled digitally on the recipe to allow longer next time. We had it with some potatoes that were meant to be sauteed but went a bit soggy. They tasted good though. Salmon with baby new potatoes and peas and beans tonight -- I think edamame rather than frozen broad beans because I appear to have two packets and because frozen edamame don't have the grey skins. Looking at the BBC's minimal recipe, which I mostly saved as an aide memoire, I'm not going to microwave the salmon, so it's not going to come out *quite* as healthy after its run-in with the grill pan.
Posted by Alison Scott at 12:04 PM | Comments (3)
May 23, 2012
Dual-wielding external hard drives
One for my 'how to change the world list': someone needs to do something about external hard drives.
I understand that all hard drives fail, and I'm careful with backups, I really am. But the average life expectancy of an external hard drive on my desk, being used for Time Machine and never moved, is no more than a year. What's with that?
Anyway, last week I noticed that my Time Machine drive was reporting a 'lost+found' folder, which tends to be bad news, and today it's refusing to backup saying that the backup drive is read only. Which is, to be fair, a lot better than saying the backup drive is a brick.
In this case it's particularly worrying, because I had a machine hard disk failure a few months ago, and restored not with a full system restore but piecemeal so as to delete a decade of cruft from the system. I believe I recovered all the important data but there's always the chance something that I care about is missing, and if it is, then the only place it will be after I replace the backup drive will be on the last-resort offsite backup.
In other news: Diablo is toast. Well, on 'Normal' difficulty at any rate. I'm not very competent at these games, but putting all my points into stun and zapping him with a taser (sorry, dual stunning crossbows) did the trick; he just wobbled around with little birds fluttering about his head for 20 minutes or so while I pathetically battered him with the spike of my high-heeled shoe. Having delayed the final battle for 20 hours so that Jonathan could watch, he got bored and wandered off.
Meanwhile, it looks like a single crossbow & quiver is much more efficient than dual one-hand crossbows, but the dual crossbows look fantastic. Especially as I had one fire, one ice for a while. I am not entirely sure how the demon hunter is supposed to reload them from her hip-mounted quivers one handed at battle speed. Perhaps I am over thinking this.
Posted by Alison Scott at 09:41 AM | Comments (2)
May 22, 2012
Bits and Bobs
Inspirational video of the day: How to use a paper towel properly. This is only a few minutes long. A second video which you have probably seen but my kids haven't -- The collapse of the Tacoma Narrows Bridge.
Food notes; tonight we are celebrating -- with the help of Pizza Hut -- Jonathan's achieving the highest score in his school on the Junior Maths Challenge.
At the weekend we had a family favourite meal -- Allegra McEvedy's slow cooked lamb & chickpea soup with chermoula. We tip noodle nests into this at the end to make something more like a pasta. The second meal was the duck salad from Jamie's 30 minute meal version, with giant croutons and rice pudding but no stewed plums. Luckily, home made rice pudding and toasted almonds and a bit of lemon curd was plenty tasty. You do need to have something with this meal because just the duck salad and croutons would be very light, and obviously you don't make home made rice pudding in 30 minutes. I had hidden the full fat milk for this for an entire week in the fridge.
Posted by Alison Scott at 05:16 PM | Comments (0)
May 19, 2012
Veg box
Another thing to keep notes on! We've been getting veg boxes from Ocado, mostly because it's easy. It is not, however, any cheaper than buying the veg separately. But it does often provide foods that you cannot get in supermarkets or at our local market.
Ocado do a veg box or a mixed fruit and veg box. I had the latter a couple of times and was always disappointed with the fruit, so have now settled down to just veg. Good things about veg boxes: they have interesting things in, they remind you what is seasonal, they encourage you to eat from a wide range of vegetables instead of getting the same things every week. Bad things about veg boxes: portion sizes are variable, some of the veg is filthy (I know it grows in the ground, but really; life is too short), quality control isn't always as good as it should be, box does not always match the contents you mealplanned on the basis of.
Notes are handy because this tells you what is seasonal for this time next year. Anyway, this week we got: flat beans (not very many, went in the lasagne), cauliflower (not planned for but will probably go into a cauliflower macaroni cheese next week sometime once the fresh meat has run out), carrots (stew bases, stocks, lasagne, snacking), portobello mushrooms (they were *huge* but there were two of them, which is no bloody use unless you're going to give people half a mushroom. So they ended up chopped up in the lasagne where they were very tasty), 'large onions' (a bit irritating this given that they sent four, they were a perfectly ordinary size, and we buy onions in Giant Sacks for 80p), rainbow chard (represented as 'spring greens'), fennel, a rather dull round lettuce, broccoli (don't really need broccoli and cauliflower in the same box thanks) and wild tomatoes.
Wild tomatoes. They make a majestic sight, roaming across the South Downs in their multicoloured herds. I *think* what they meant was heritage tomatoes. They're very beautiful and I will report back later on how they taste.
Posted by Alison Scott at 11:03 PM | Comments (0)
Lunching on Loaves and Fishes
I reckon that you should count half an hour per day and a pound per person per meal (including breakfast) as the basic eating overhead for adults or bigger children. Say £84 and four hours per week for the four of us. You could save £25 of that by carefully eating exclusively from value ranges, or you could spend £30 more and mostly eat premium brands or ready meals. Either everyone can take a turn cooking or one person can do it all, feel smug, and cash it in against other chores.
Anyway, I very rarely account for weekend lunches when I'm meal planning. If we have a lot of leftovers then we have Leftover Roulette, where everyone grabs something. Plus we're quite often out, or we just have toast or sandwiches, or we've got up so late that we can just have a late breakfast. But today we'd just come back from playing badminton, where Marianne and I actually won a game against Steven and Jonathan; the first time since we started a couple of months ago that any partnership has won against Steven. He was, to be fair, playing left-handed. Mind you, so were we. A proper lunch was called for.
So. This was an onion, half a pack of streaky bacon that needed eating up, a fennel bulb ditto, half a bag of slightly sad rainbow chard, all chopped up and sauteed, and then finished with the leftover sauce from yesterday's Dungeon Crawling Pork and a couple of spoons of tahini. I had planned on pasta, but while the kettle was boiling I noticed a pack of instant couscous I found tucked away at the back of the cupboard, saving a few minutes and a bit of trouble. Perhaps fifteen minutes start to finish.
This was very tasty, but salty. Bacon is salty of course; careful readers will remember that the basis of the pork sauce was the packet of BBQ sauce that came with the spice-rubbed pork, so obviously pre-packaged food tends to be salty, and the instant couscous was salty. So next time I might leave the bacon out, for all that my family love bacon and will eat any amount of green vegetables provided they're cooked with an ounce of bacon per person. Or serve it with unsalted couscous.
Tahini, meanwhile, like peanut butter, is becoming one of my go-to sauce finishers. Obviously it's fatty. But I can't really believe that it's any worse for you than an equivalent amount of sour cream or creme fraiche (I use those too).
Posted by Alison Scott at 01:53 PM | Comments (2)
A Rude Awakening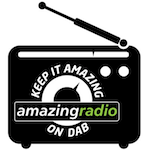 Some history. Years ago, we bought a new digital radio, primarily so that we could listen to 6Music in the mornings. We checked out everything on the dial, and concluded that 6Music did have the best breakfast show, but that there was an empty channel broadcasting birdsong, and that that would do very nicely to wake us up at the weekend. So, armed with the manual, I set the alarms on the radio, and we were woken up by birdsong at the weekend.
A couple of years after that, the birdsong stopped; the license had been let for that chunk of bandwidth to a new station with a new business model, Amazing Radio. They played unsigned music. At first, most of the music was terrible and the station was minimal, and I very much missed waking up to the sound of birdsong. But the music is now largely good or at least interesting, and I had got used to our two hours a week of slightly sleepy listening. More importantly, it was never bad enough that I was moved to try to remember how to reprogram the radio, and it never ran advertising.
They're now in contractual dispute with digitalOne, who rent space on the DAB airwaves and provide favourable contracts to the radio stations they own and operate (how is this even legal?), and have gone silent. No birdsong either, just a loud, irritating, repetitive announcement. A Facebook campaign has been launched, of course.
It would, I think, be nice to see it back. But what's really upsetting me is that I'll have to urgently master programming the radio. I can never tell whether this inability to remember how things work is evidence of middle-aged mental inelasticity, or poor user interface design. Or both.
Posted by Alison Scott at 08:27 AM | Comments (0)
May 18, 2012
Two inspirational videos for today
A really short one -- Richard Feynman speaking about confusion in 1963, and a really long one -- Randy Pausch's 'last lecture' (not actually his last lecture by any manner of means). That last one is over an hour long and it has 14 million hits. I think I may be the last person on the internet to see it (except not, because I've just passed it on to Marianne).
I didn't watch either of those today, but I watched two other videos (as with food and study, I'm keeping public notes here). The first is another Randy Pausch lecture, Time Management. If you're familiar with time management, there's not a lot new here; he tells you to pay attention to Covey's four quadrants, to eat the biggest frog first, and to get your inbox to zero. But it's still jolly entertaining, and it's all a good reminder.
I've been planning to watch more TED videos, but how to choose? There's a lot out there. So I decided that I could probably do a lot worse than start with the most watched TED videos that I hadn't already seen. So I sorted by 'most watched', and came up with Ken Robinson's argument that the entire education system is wrong. I thought this was pretty mediocre to be honest; the premise seems obvious to me to anyone who is paying attention and I don't think Robinson takes it anywhere very interesting, or addresses it in a terribly clever way. Moreover, I observe my kids' schools trying to address this, and teaching IT, and enterprise, and learning power, and all the sorts of things that I think it would be jolly good for schools to teach kids. The catch is that the curriculum in these areas is so bad, the quality of the teaching so poor, and the subjects so reviled by the kids that I genuinely think they'd do better just teaching the kids Latin.
Finally, one video that features the greatly inspirational Peter Norvig and the not-so-inspirational me -- tonight's Office Hours Google hangout for Udacity CS212: Design of Computer Programs.
Posted by Alison Scott at 04:46 PM | Comments (0)
Chipping Away at My Defences
Because I don't live under a rock, I noticed that Diablo III was about to launch, DRM riddled and very expensive. I have a certain amount of history with Diablo, perhaps the most lush and polished examples of my favourite genre, the roguelike. Actually, Diablo is not a proper roguelike, or at least, it's nothing like enough roguelike. History is required here. The original Diablo was a sparkling mashup of two brilliant genre-defining games, Rogue and Gauntlet. Gauntlet was never roguelike at all, and it's those bits of Diablo that aren't roguelike. The expectation in 'proper' roguelikes is that you will not quite understand what is going on, and as a result you will probably put a foot wrong and die (permanently), but learn something in the process which helps for the next go. But anyway, until someone makes a game as brutal and unforgiving as Shiren the Wanderer with as much polish as Diablo, this will have to do. And Diablo III does have a hardcore mode, though locked at the start.
Luckily, my main computer is a Mac. What's more, it's nearly five years old. So there was no serious chance that Blizzard would release a Mac version of Diablo III on day 1. Except that they did. And there was no serious chance that it would play on my mid-2007 iMac or my mid-2010 MacBook Air. But there were videos showing the latter, and the former met the minimum specifications.
Anyway, once I'd finished most of the week 10 homework on MITx, I succumbed. And it's running perfectly well on my mid-2007 iMac, on the lowest graphics settings and at 1280x800 not 1920x1200 -- see the sample footage. In a shock move that will surprise nobody, I am playing a female ranged weapon user called Illyria.
Anyway, if you'll excuse me, I have to go save New Tristram from the forces of darkness. Dinner tonight: the world's easiest slow cook; a pre-seasoned Waitrose pork joint, covered with the barbecue sauce it came with and a small bottle of fizzy pop (in this case ginger beer; root beer is traditional but you can also use actual beer of course) and stuffed in the slow cooker for an entire lush mob-spawning loot-grabbing demon-killing day. We will eat this with red cabbage (leftover from the last time I cooked it) and the fresh bread made with yesterday's beetroot cooking water. It's not pink! You have to put puree in it to make it pink, apparently. It did rise alarmingly, what with all the sugar in the beet water. Next time we'll make a small loaf.
Posted by Alison Scott at 10:00 AM | Comments (0)
May 17, 2012
They've let me order a Raspberry Pi
I finally got the email saying 'hey, you can buy a Raspberry Pi'. So I have done, together with the operating system and power supply. Now I just need to work out what I might do with it. Good thing I'm learning (a) circuits and (b) Python, right? Jonathan has grabbed schematics for a case and logo and is aiming to persuade his technology teacher to let him make a case on the laser cutter at school; if he fails then my next stop will be Hackspace. Anyway, if you have any ideas for good uses for a tiny cheap computer, do let me know.
I finished unit 5 of Udacity CS212, now onto game theory, and loved every bit of it. Currently taking a break from learning about impedance and complex amplitude in MITx.
What have we been eating? Yesterday we had a spring vegetable and veal lasagne by Gordon Ramsey, chosen because Ocado had an offer on sustainably farmed veal mince. I obviously ignored the exhortations to use super-expensive baby veg and just used what we had, so fresh chicken stock, leek, carrot, courgette, flat beans, mushrooms, spinach, dried chervil, ordinary cooking cheddar not parmesan. Pasta bakes that don't have a roux-based sauce get a real boost from pouring egg over the top, and this looked beautiful and was much appreciated and served six (using at least twice as much veg as he recommended). My one concern was that the ricotta did not form a smooth sauce; nobody seemed to mind though.
The day before we had pizza. I've been going all technical with homemade pizza; purchasing pizza stones and baking sheets with holes in them. If you buy the toppings specifically for the pizza then it becomes very expensive; if you reckon to use whatever's around then it's not. In this case we had scraps of duck, chicken, a couple of tiny chorizos, black olives, red pepper and red onion. Whenever I'm making the sauce I think I should make this in big batches, but then I forget again until the next time.
Tonight we're going to have cheating chicken biryani, except slightly less cheating because I'll make the curry paste as I go. Later: The paste was a small onion, two cloves of garlic, a cube of ginger, and a couple of tablespoons of ground almonds, together with some ground cumin, coriander, turmeric and cayenne (what I think of as 'cheap curry spices') and some ketchup (famous cheat for all sorts of things where I don't want to use a whole can of tomatoes; this bottle has indian spices in it already and was a freebie from Heinz). I have slightly reduced the amount of chicken and added half a celeriac.
I also had two beetroots that needed eating up, and they couldn't go in this without making it a totally different sort of curry. So I've made Beet Pachadi, from Das Sreedharan of Rasa. I use the recipe from his brilliant cookbook Fresh Flavours of India
, which appears to be unavailable now.

Posted by Alison Scott at 03:57 PM | Comments (2)
May 13, 2012
Love May or May not Tear Us Apart
Tomorrow you can go and buy an actual single release of "Love Will Tear Us Apart", by June Tabor and the Oysterband, and there's a video!
Filmed at the Union Chapel, probably the best venue in the world.
I'm just quickly finishing up the Week 9 deadline for MITx 6.002, so no time for an extended entry. But I feel like I'm finding it a lot easier than I did in the early weeks.
Dinner notes: We had Jamie Oliver's spring poached chicken on Friday night, with the vegetables substituted for 'whatever happened to be around at the time'. It is as delicious as advertised though I am not sure whether I'll be able to get a second stock out of the bones or whether I should just throw them away. [Memo from the future: I made a quick cloudy stock from the bones and put the veg from it and some of the stock into the lasagne, and the rest of it into the chicken and celeriac curry. Well worth doing.] I was out all day yesterday and the family had takeaway. Today Steven made us chilli, enlivened by the pepper grinder imploding and tipping several hundred peppercorns into the chilli. We fished them all out again but that pepper mill has lasted less than a year and I will be invoking the gods of 'Merchantable Quality' on the morrow. The other meal today was the duck liver pate, on toast.
Posted by Alison Scott at 07:30 PM | Comments (0)
May 10, 2012
Kinnersley Castle
Kinnersley Castle is the first of the two 'Mazurkas' played by Mabon. I have it in the excellent Jamie Smith tunebook Tunesmith, which I'd recommend to anyone. Anyway, it's in the only partly melodeon friendly key Bm, but every note is playable on a standard 2 row D/G and most of the chords are at least approximatable. So that has amused me this evening. Target date for playing this out: perhaps July?
I thought I'd written a little this morning about dinner, too. We had Jonathan's parents' night tonight, so something cooked in advance was called for. Soup, then, given the duck stock. I also have fresh kaffir limes. First time ever, thank you Ocado, but they were very expensive (about £2.50 for two small limes) so I want to make sure I use them. Thai-influenced soup then, but without additional fat (the duck stock still had a little fat in it so I left that in rather than skimming it). I ended up making a lentil soup with the duck stock (perhaps four pints), a bag of red lentils (puy are more traditional with duck but I didn't have any), a couple of onions, several sticks of the Floppiest Celery in the World (thank you Walthamstow market for selling me celery suitable only for stew), and a couple of pounds of halved cherry tomatoes (also from the market). Flavoured with some indifferent red curry paste and the zest of one of the limes. This turned out very tasty indeed; the original plan was to add sliced peppers, fennel and courgettes when I returned from the parents' night, and perhaps some peanut butter, but the soup was splendid without it.

Posted by Alison Scott at 11:16 PM | Comments (0)
Missionaries and Cannibals
I'm currently studying two courses. They're both MOOCs; massive open online courses. The Wikipedia article on MOOCs is rotten and very out of date. They're exciting at the moment because some famous universities, and extremely interesting lecturers, are getting involved in them. This form of study is good for me because it's free, and it's very convenient, and because abilities like google-fu and forum participation are very handy.
It feels extremely disruptive. People keep saying 'oh, but it won't take the place of traditional undergraduate residential study'. And it might well not, if you're a first rate university. But it seems clear that lectures delivered this way have the potential to be far better than the more mediocre sort of university teaching. Credentialing will come; perhaps not for a year or two, but it will come. And at that point, people are going to start wondering what exactly they get for their money with full time residential study.
I'm studying the pilot MITx course from MIT, 6.002x Circuits and Electronics. It's a largely unamended MIT sophomore course; prerequisites are some calculus (I'm rusty but I've found the maths very soothing and easy), and electricity and magnetism, which in theory I did at Cambridge but I didn't exactly pay attention. Anyway, whenever I get stuck I stop, read around the issue, and Google. Try doing that with a real lecturer.
The other course is CS212 from Udacity. I know amazingly little about programming. I think it's mostly an accident of fate, but anyway. Time to sort it out. Unlike MITx, Udacity isn't an established university; it's a for-profit startup. That allows it quite a lot of flexibility in what it delivers and how; and it's doing bite-sized eight week courses (hexamesters, they call them). The introductory course, CS101, was straightforward (though I did get a bit stuck on the bonus hard questions in the final exam). I had a choice of followup courses, but I have chosen to do 'Design of Computer programmes'. The lecturer is Peter Norvig, Google's Director of Research, and the course is jolly good but I'm finding it quite dense; and last week's unit was just a bit too hard for me.
Anyway, all of that was just preamble to what I was planning to say, which is that I'm going to put some course jottings on the blog. I finished unit 4 of CS212 yesterday. Unlike unit 3, it felt like it followed on tidily from what had gone before. Starting with puzzles such as 'I have a 9 pint and a 4 pint container, and a barrel of beer. How can I measure exactly 6 pints', and 'there are 3 missionaries and 3 cannibals, who need to get across a river in a boat...', we developed code to solve first those specific puzzles, and then general puzzles requiring an effective search.
Today: week 9 of MITx.
Posted by Alison Scott at 07:40 AM | Comments (3)
May 09, 2012
Rendering a Duck
Ducks were half price at Ocado last week, so we had roast duck instead of roast chicken. And this one had giblets (quite a lot of my chickens don't these days). I roasted it on a rack, with loads of veg underneath (potatoes, celeriac, fennel, carrots, red onions, butternut squash, red pepper, garlic); I poured off the excess fat several times during the cooking, so I think I have enough fat for about four more lots of roasties. The skin was crispy but not quite crispy enough, and the meat was fantastic. I'd planned on there being leftover vegetables but I turned my back and they'd all been eaten; that's how much duck fat and juice had soaked into them. Oops. Next time ducks are half price, I'll roast in an empty pan and cook the veg separately with just the regular amount of fat.
We had red cabbage with it; the benefit/catch with organic boxes is that you have to cook what you get. Red cabbage keeps for ages, and this time I'd had one sitting at the bottom of the fridge until the next one came along. My children don't like it, but it's one of my favourite things, and the slightly sharp taste really goes well with fatty meat like duck.
Duck isn't like chicken; a good sized duck famously feeds three, though it's enough for 'just the family' for four; you don't actually need that much roast meat. When the kids clamoured for seconds, I pointed them at the carcass, figuring they'd do as good a job as I would of stripping it.
I was wrong. I threw the remaining duck in the stockpot without a second glance, expecting that when it came out I would have no more meat than would enhance the inevitable soup. But there was loads; silly me. Enough for a stir-fry and the topping for a pizza. I used to discard the vegetables from the stockpot, believing the chefs who say that all their power is used up. But then Allegra McEvedy set me straight, in a recipe for ham hock soup where she purees the stock vegetables and adds half of them to the soup and saves the other half for another soup.
I love giblets; I think of them as a sort of magic meaty lucky dip because they're always a bit random. No sign of a gizzard or kidneys this time, but instead at least two livers and what might have been a third liver or alternatively perhaps lungs; it was attached to the heart. The heart and neck went in the stockpot, but I turned the rest into awesome pate. If you've ever stared at a giblets pack wondering what you've been sent, I recommend Chicken Giblets: an illustrated guide.
I'd never made pate before. When you buy duck liver pate from the supermarket, it's often a bit insipid. I realise now that that is because actual duck livers or other duck offal are very thin on the ground (typically 20-30%), the excess being made up by duck fat, skin, random bits of duck, chicken livers, and who knows what all else. I used Delia's recipe, chosen mostly because it didn't involve chopping and frying an onion or shallot and so is very quick. I didn't use as much butter as Delia does so my pate was about 70% duck meat; the balance being butter, cheap cooking brandy, and spices. This made enough to fill one largish ramekin to the brim; it felt about as much as a small supermarket tub. It's amazingly delicious but actually, just the fried duck liver was amazingly delicious and another time I might just fry that up with butter for my lunch and forget about pate making.
Finally, the pate required clarified butter, and one website said 'don't throw away the curds! They're great on popcorn'. I will try and report back.
None of that will feed us tonight; we're having a fish pie. The fish was planned for a much posher fish stew, but a couple of ingredients didn't turn up, and besides, I couldn't be bothered. So. Fish pie; I put the peas right into the pie these days because that way people eat them. In terms of pie wars, this is of course not a pie; the topping is mashed potato and dishes of this kind are sometimes called fisherman's pie by analogy to cottage pie and shepherd's pie. This used up a couple of random pots of stuff; some leftover white sauce because I made too much for something the other day, and a bit of what I thought was mash but I think was actually gnocchi dough. If the mash ends up tasting like dumplings we'll know why.
Posted by Alison Scott at 12:52 PM | Comments (1)
Is anyone still reading?
I am sort of back. Or rather, I kept thinking that it would be nice to have somewhere where I could document things -- you know, stuff I'm doing, stuff I'm cooking, plans, things I haven't tried yet but would like to, places I've been, places I'm going. If only there were some way to do that on the Internet.
I feel like there's been a massive splitting of my online experience. Many of my friends are on FB, which prioritises the trivial over the profound. No, really, it does; it gives greater weight to photos, so all those stupid memes that go round turn up on everyone's front page. More critically, it gives lower weight to status updates. But the status updates are the stuff I care about -- the posts where my friends tell me what they're doing. We're not the kind to post updates like 'I'm eating cereal Right Now'. Anyway, I too am on Facebook, and you can find me there if you like.
I've been cooking, and storing all my recipes in a lovely program called Paprika, which syncs in the cloud and is available for Mac (find and store recipes), iPhone (handy when shopping) and critically, iPad. I keep my iPad on a rack in the kitchen and cook from it all the time. I want to take notes of what I cook and when, but Paprika doesn't have a good interface for that at all.
I don't feel like I'm unemployed. But I have left my old job, and don't have a new one yet. Instead, I'm studying. For free and online, and that feels like a major thing to write about. Plus the inevitable lifestyle things. The Oatmeal is instructive here.
I still want to write about music, probably with Spotify or last.fm links. My old page of mp3 links feels very old-fashioned now that you can stream all sorts of stuff all the time.
Looking at the sidebar, I haven't been putting much on Flickr but I should do more of that; I'm still scrobbling the music I listen to, I stopped using delicious because it looked like it was circling the drain but didn't find anything much to replace it. The 1001 days ran out but I hadn't done all the 101 things.
I do stuff. I might write about it sometimes. Comment if you like.
Posted by Alison Scott at 09:55 AM | Comments (4)