« Dept. of Implausible but True | Main | EMI Breaks Ranks »
April 01, 2007
Melodeons and More
I had a fine time at the East Anglian Traditional Music Trust's Melodeons and More day. I attended a workshop on Welsh tunes and a 'nice and easy' session, both run by fellow melnetter Steve Dumpleton, and a song accompaniment workshop run by Ed Rennie. I was very cheered by how I've moved from 'clearly a beginner' to 'in the middle of the pack' in the last twelve months.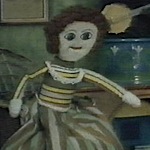 At the concert though, my attention was diverted to astonishment at how, even after all these years, I cannot look at Sandra Kerr without thinking of Madeleine the rag doll. I guess Firmin and Postgate managed to catch a lot of Sandra's appearance and mannerisms as well as her voice.
I heard people saying that this year's concert was better because it wasn't so focused on melodeon. I could personally have done without the duet concertina player performing standards with no link to the tradition, in favour of an extra melodeon player. But the other acts were all fine; Katie Howson, the organiser, playing one-row melodeon with her band; Ed Rennie (melodeons and guitar), Sandra Kerr (still a great voice, concertina and autoharp), and the fabulous Emmanuel Pariselle -- tellling astonishingly complex jokes in English, singing and playing melodeon in French (but with explanations sufficient that I could follow most of the plots), and playing the Colin Dipper Franglo concertina that he helped design; it's a 'French Anglo' that has a button layout identical to that of a three-row melodeon. Very cool indeed, and I understand the waiting list for a new Dipper can be a decade or more.
And I asked John Howson if he was considering putting Veteran Records on eMusic. Now that Fellside and Topic are available, Veteran is the 'label I'd most like to see'. He said he was definitely going to move to digital distribution this year, and was planning to use HMV/Virgin - a DRM ridden, Windows-only, iPod-free approach. I tried to explain why that was a poor choice, but he said he'd made up his mind. Shame.
Posted by Alison Scott at April 1, 2007 03:13 PM
Comments
Both your img tags have two closing double quotes after the width parameter... (and by all means moderate this out of existence) [Now corrected, thanks]

Posted by: Tim Illingworth at April 1, 2007 05:35 PM
Post a comment