« April 2004 | Main | June 2004 »
May 30, 2004
Clutter
As William Morris should have said, have nothing in your houses that you do not know to be useful, believe to be beautiful, or that might come in handy one of these days. So. Two trips to the tip so far, and more planned, and a virtual garage sale over on LJ; virtual in that everything is free to whoever would find it useful, beautiful, or potentially handy.
Posted by Alison at 07:27 PM | Comments (0)
May 24, 2004
Wonders of the Modern Age
Feorag writes of a modern Jain temple designed so that the sunlight lights a statue at a particular time. My favourite example of this from modern times is that the whole of Milton Keynes is designed so that at sunrise on Midsummer's day, the sun is aligned directly with Midsummer Boulevard & is reflected in the mirror finish of the railway station.
Posted by Alison at 09:32 AM | Comments (3)
May 22, 2004
If You Can't Be Good, Be Lucky
We've spent the last three nights at Bush Hall in Shepherd's Bush, watching Oysterband and guests recording material for a live album to follow on from their 'Big Session' tours. (Previously blogged here).
It's been unseasonably warm in London this week, and it was certainly unseasonably warm in Bush Hall, particularly on Wednesday. But we had fun nonetheless. The gigs weren't advertised, though they were listed on the website and mentioned here and there. There were about 60 people there the first night and 100 on each of the other two; of those, perhaps 20 went all three nights. These were sedate and seated gigs, and there wasn't much dancing; I did get up for a dance or two on two of the nights, but we were a small minority. There wasn't much singing along either, though we're promised that we'll sound like many more people on the eventual recording.
On each night, Oysterband started, playing a couple of songs from Rise Above (with help from piper James O'Grady), before introducing a first guest. For the first two nights, this was June Tabor, in each case doing Mississippi Summer (from Freedom and Rain), Sarah Makem's Factory Girl (which is on the 25th anniversary album), a splendid version of Love Will Tear Us Apart (duetting on the vocals with John Jones) (not recorded anywhere as far as I know), and White Rabbit (on June Tabor's collection of sessions On Air). Then a bit more Oysterband, joined by The Handsome Family on Wednesday. I was grateful for having downloaded some Handsome Family from eMusic and their own website; I think I'd have found them a bit incomprehensible otherwise. Even so, the vocals were pretty muddy on the tracks played with the Oysters.
After the break, another guest; Show of Hands on Tuesday, and Eliza Carthy on Wednesday and Thursday. The gigs featured two entirely different songs called "Country Life"; surely deliberate, with Show of Hands and Eliza Carthy with Oysterband respectively. Rose Kemp appeared on Wednesday, just for a few songs, and didn't do any of her own stuff.

There were a couple of a capella songs that were new to me -- and new to most of the singers, judging by the number of lyrics sheets being held.
The first two nights were more the same; I think on the third night they'd realised that quite a lot of people had come to all three sessions, and were quite a bit more varied. Flick could only come on Thursday night, and was well-rewarded. Jim Moray flew down from Scotland, on his one day off from the Richard Thompson tour, to join the session. According to JJ on Tuesday, his manager's told him to stop taking his PowerBook on stage because it 'makes him look like a technonerd'. Shame. We like technonerds.
Full set lists:
Tuesday: Uncommercial Song, If You Can't Be Good, Blackwaterside, Mississippi Summer, Factory Girl, Love Will Tear Us Apart, White Rabbit (the last four with June Tabor), My Mouth, Everybody's Leaving Home, Tumbledown/O'Farrell's Farewell to Limerick/the Quernstone Reel, By Northern Light. Show of Hands: Reynardine, The Train/Santiago/Soldier's Joy, (with Oysters) Country Life, We Shall Come Home, John Barleycorn (with everyone). When I get to the Border (June + all the fiddles), The New Jerusalem (everyone), 20th of April, (a song I don't know the name of by Show of Hands), Deserter (OB&SoH), Cornish Farewell Shanty (everyone)
We hung around like groupies afterwards, and were well rewarded with chances to chat to the band. I was completely tongue-tied in the presence of John Jones, who I've only been obsessed with for a decade or so, and have never quite had the nerve to speak to before.
We also spent some time chatting to denizens of the Yahoo Oysterband group, some of whom were wearing the group "When I'm Up... I Won't Get Down" t-shirt.
Wednesday: Uncommercial Song, If You Can't Be Good, Blackwaterside, Mississippi Summer, Factory Girl, Love Will Tear Us Apart, White Rabbit, Molly Bond, Handsome Family: Weightless Again, HF & OB: House Carpenter, White Haven (and possibly one other?). After the break: Eliza Carthy: The Grey Cock, (with Ben Ivitsky & the Oysters & Rose Kemp): 10,000 miles/The Hungarian March, Just as the Tide Was Flowing, Willow Tree, (with everyone) John Barleycorn, (June Tabor & James O'Grady) Lowlands Away, (everyone) New Jerusalem, (most people) Tumbledown/O'Farrell's Farewell to Limerick/The Quernstone Reel, (June & fiddles) When I Get To The Border, (everyone) All Along the Watchtower, (Oysters +Eliza +Ben) Country Life, (everyone) Cornish Farewell Shanty.
We hung around again; and this time got to chat to Eliza Carthy: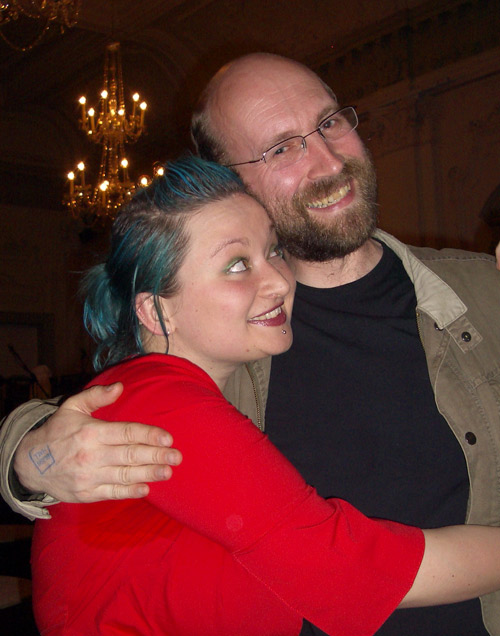 We also spent a little while talking to Ian Telfer, who explained that they'd been working incredibly hard all week and were completely knackered as a result; nearly all the songs had new arrangements (and often different arrangements on the three nights), and it was hard work just keeping track of everything. He also mentioned that the sessions were being underwritten by the German record company that was planning to put out the CD -- but it would at least be available through the website.
Thursday: I've misplaced my notes, complete with speculatively ribald scribbled conversation with Flick. What I remember: The Soul's Electric, If You Can't Be Good , Everybody's Leaving Home, a James O'Grady solo (Etna?), an Alan Prosser solo, Molly Bond, then Jim Moray: Gypsies, Sweet England, (with Oysters) Cuckoo's Nest, Oysters (with Jim): Milford Haven.
Eliza: The Grey Cock, 10,000 Miles/Hungarian March, JJ:Thousands or More, Eliza: Just as the Tide was Flowing, Willow Tree, Jim Moray: Poverty Knock, Eliza plus fiddles/viola and guitars: Fuse, Everyone: John Barleycorn, New Jerusalem (everyone, even down to George the Roadie), Road to Nowhere, Cornish Farewell Shanty.
Oh, you were wondering what I remember of the speculatively ribald conversation? You'll just have to guess. And by rights, I should have a photo of Flick with Jim Moray for Thursday night -- but sadly, we didn't get to chat to him. I am sure he noticed me wearing my shiny new Jim Moray t-shirt, though.
Posted by Alison at 07:55 PM | Comments (1)
This App Will Change Your Life
Steve Davies pointed out Spike, which allows you to share clipboards across all your Windows and Mac OS X machines. Copy something on one machine; Spike sees it on the network using Rendezvous, and you can paste it from any other machine with Spike on it. As the website says; "no matter what business you're in, sharing text, images, and files over a network is part of your workflow". And when writing fanzines, too.
Posted by Alison at 03:49 PM | Comments (2)
May 16, 2004
Dream Gig
We went to see Richard Thompson at the refurbished Hackney Empire, supported by Jim Moray, who described the experience as "Like playing in a Fabergé egg". We took with us a long-standing RT-lover, and Flick, a fellow Jim Moray groupie who knows RT not at all.
We arrived at the concert about 30 seconds before it started, thanks to a really nice dinner at the Green Papaya, a little further down Mare Street. I'd actually planned this in advance for once, haunted by the memory of previous long walks up and down Mare Street in search of restaurants. Yummy Vietnamese food, in a nice conservatory by the open door to the courtyard; there are tables outside, but despite the lovely weather it seemed a little stretching to eat outdoors in May.
Jim did 6 songs (such is the life of a support artist) -- which worked out at about £3 each for Flick, who at one point was threatening to not stay for Richard Thompson. Since last summer he appears to have come to an accommodation with himself about the extent to which he replicates his recorded sound. No PowerBook on stage therefore, and relatively stripped down, though still rocky and powerful, versions of the traditional songs. I did wonder whether people who hadn't otherwise heard his stuff would quite get the point. Set list: Poverty Knock, Lord Bateman, Fair Sally, Gypsies, Longing for Lucy, Two Sisters. Oddly, he didn't play the new single, Sprig of Thyme, or the other new track from the single CD. But I did get to buy the single, and a lovely Jim Moray tshirt, which I'll be wearing to see Steeleye Span tonight.
After plying Flick with G&T she happily settled down to a new experience "he's wearing a beret, Good God What Have You Brought Me To?" I enjoy watching Thompson solo and with a band, but I can never quite see the point of the band. And for once we had no dodgy family members, though Christine Collister joined him at the end for a few tracks, which Steven correctly pegged as an anticlimax. Acoustics in the new HE are mixed, though to be fair we were at the side of the dress circle rather than (say) in the middle of the stalls, which is where we'd have been if we'd got our act together and bought tickets as soon as we knew they were available.
Thompson punctuated the gig with (mercifully brief) renditions of traditional versions of past Eurovision winners, to help us cope with the grief of missing the Eurovision Song Contest.
He kicked off with two newish songs -- "Watch Me Go" and "Boys of Mutton Street". New to me, anyway. There were a couple of other songs that were new to me; "Alexander Graham Bell" and "Should I Betray You".
"Alexander Graham Bell" really freaked me out; I now know two funny songs whose first line is AGB, and I'm not sure the world has enough room for two. Because both songs take their tempo from the name, they're quite similar in lots of ways too, though the other, Huw & Tony Williams' Morse Code Song is actually singing the praises of Samuel Morse rather than AGB.
He asked us to send goodwill messages to Dave Swarbrick, who's still under the weather, before playing Crazy Man Michael, allegedly for the first time.
Overall it was a nicely paced set, lots of stuff we haven't heard for a while, or things played differently to usual, as well as some new songs.
Set List: Watch Me Go, Boys of Mutton Street, Outside of the Inside, Cooks Ferry Queen, Crazy Man Michael, Crawl Back, A Love You Can't Survive, Gethsemane, Vincent Black Lightning, Persuasion, Alexander Graham Bell, Should I Betray You (?), Hokey Pokey, Cold Kisses, For Shame of Doing Wrong, How Will I Ever Be Simple Again, Sibella, King of Bohemia, Feel So Good, Beeswing, Ghosts in the Wind, Wall of Death, A Heart Needs a Home.
Posted by Alison at 02:30 PM | Comments (1)
May 11, 2004
More on eMusic
I have to remind you all every so often that there's music you like at a good price on eMusic. They've just added 'booster packs', so if you're feeling short of downloads in a given month, you can buy extra ones (50 tracks for $15 is the best value). That works out at a little more per track than the regular subscriptions, but they don't run out at the end of the month. This means that by buying a booster pack, you can download in whole albums without having to scrabble around to find an album with exactly the right number of tracks. For me, the basic subscription plus booster packs probably works better than the bigger subs, because I'm generally rubbish at remembering to visit the site every month.
Posted by Alison at 01:07 AM | Comments (0)
May 09, 2004
More on Dance Mats
One feature of <plokta.con 3.0> was a plethora of programme items about the personal obsessions of the cabal. One of them was mine on dancing games, and it seemed to go quite well. People asked where I had got my dance mats; from the US with months of waiting and worrying.
I've now discovered that the very wonderful source of gaming accessories, Lik-Sang, has opened a EU shipping centre. This means that when you buy from them, you have a choice of buying direct from Hong Kong, or, for products that are legal in the EU, you can buy at higher prices to have items shipped within the EU, saving worries about intercontinental shipping, VAT and duty. And they do ignition-style padded mats (the sort I have) and, for those with lots of space, full-sized metal pads.
Posted by Alison at 02:59 PM | Comments (0)
May 07, 2004
They were S.O.T.A in 1996
We picked up the ancient PowerBooks at <plokta.con>, sparking much interest from the other parents of medium sized children. Our friend had helpfully sorted us out some appropriate kid-friendly software, and showed us some fabulous Stupid Kid Tricks (type a story into SimpleText, get the computer to read it out loud, that sort of thing). Anyway, I've set them up today, delighting the children, who (as I suspected) really like the idea of computers of their own.
They run System 7 (though if we can find some extra ram from somewhere then we can put 8.6 on), they're incredibly sturdy, and noticeably smaller and lighter than our PC laptop, Firebrick (though to be fair, every laptop on the planet is smaller and lighter than Firebrick). I'm reasonably confident we will get them onto the network, and Internet is plausible, though I'm not sure there's a good browser out there for system 7, and most of the websites the kids like are flash-heavy. I will have to wait for nightfall, though; the children have been inseparable from the machines all afternoon.
Oddly, we find that much of our existing children's software, bought when Marianne was a small child, will run on these machines; dual-format PC/Mac CDs were the order of the day then. Marianne fell on old favourite Orly's Draw-A-Story and we haven't seen her since.
Update: Got a great Macs-just-work when we plugged in the network cards, made minimal network settings, and typed in a web address in Netscape. But this site crashes Netscape 4.0.5, which is the browser they've got, and the CBeebies site is terribly slow.
Posted by Alison at 09:32 PM | Comments (3)
May 04, 2004
Home from plokta.con
Steven said wistfully on the way home "Well, I enjoyed that. But I think I enjoy small cons that other people run more." And I don't think we can quite manage Convivial, which looks like a marvellous convention; the idea of three full days of Victorian dress up is a bit too much for me to cope with.
The house is full of pirate tat.
We put me on far, far too many programme items. Bad Alison. To the extent that one of the other caballeros got pissed off at me yesterday morning because they were looking for me and my powerbook and both were on the programme, I didn't get any time to prepare a couple of things properly, and I visibly frayed at least three times over the weekend because of lack of chill time. For Interaction, we are returning to the traditional and perfectly sensible rule that the cabal get to be on one program item each.
Charles Stross was a hard-working, entertaining and amiable guest. On Saturday, Cory Doctorow arrived, interviewed Charlie, did a pre-arranged interview with a journalist, held forth on a panel abut intellectual property rights and left again, all in the space of about four hours. On Sunday, Diana Wynne Jones popped over and sat around in the bar chatting to us all. Thanks to all.
Lots of people gave me presents! Thank you. All moose-related apart from a copy of Diana's new book.
Most of the programme worked well; I was particularly proud of the Photoshop panel, which managed to be quite serious about fan art despite technical problems.
The mac laptop count rose again; at least seven this time.
Posted by Alison at 08:37 AM | Comments (1)