« July 2003 | Main | September 2003 »
August 15, 2003
Microsoft Appears Clueful
They've released a Student & Teacher edition of Office X. Priced at $149, allowing use on up to three computers in your household. No UK announcement yet, though. Eligibility is any full or part time student or teacher, or the parent of a schoolchild. I'm sure you've been thinking of doing an evening class, right?
Posted by Alison at 06:28 PM | Comments (1)
August 09, 2003
The UK has a temperate climate
Last year my passiflora caerulea had one fruit. This year it looks like this: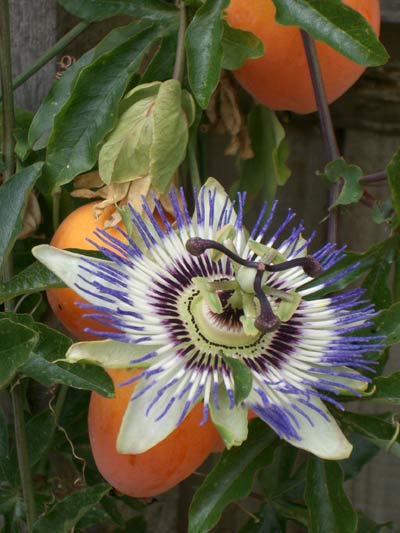 It's still flowering merrily, and has set 100 fruit or more already. I don't believe you can do anything with the fruit of the hardy passionflower, as they're hollow and the pulpy seeds are tasteless. But it's still my favourite thing in the garden.
Posted by Alison at 11:54 AM | Comments (1)
August 08, 2003
All the rest of the Music
Not all music is on eMusic; I picked up a dozen albums or so at Trowbridge and Cambridge (Radio 2 site, with lots of full-length videos). I haven't assimilated them all yet, but I did want to mention Elephant Talk, who don't have a website to speak of. We snuck off to see them after the kids were in bed on Friday night; they're improv musical jackdaws, laying down beats live and playing a dozen instruments on top of them, nicking from all traditions and none.
I also bought Farewell Sorrow by Alasdair Roberts, who I've blogged before. I missed hearing him at Cambridge (the perils of taking children to a festival; he was almost the last act in the club tent), but the album is astonishingly lovely. These are brand new, self-penned, Scottish folk songs; when I heard him at Crawley I wasn't sure if the songs were traditional, or slightly adapted, or new; they're new. The arrangements are spare, and the themes are traditional.
I didn't get to hear John McCusker this time, but I bought Goodnight Ginger anyway; and I picked up albums by Shooglenifty and Berreguetto on general principle. And I've just deleted everything on my iPod and replaced it with the music I've added to this machine in the last 60 days; some 8gb worth (largely existing stuff from our record collection).
Posted by Alison at 08:57 PM | Comments (0)
Like a Pig in Shit
How had I failed to notice how wonderful eMusic is? I mean, I did know various people who'd recommended it, but I hadn't paid any attention. It's got about 200,000 tracks, all on independent labels; once you join you can download, er, as much as you can comfortably consume* for a single fee. The mp3s aren't controlled; they suggest that you download them, run them on as many computers and mp3 players as you like, burn them to CDs for your own use and the use of people in your immediate family. And they ask that you don't give them to anybody else.
If, like me, you listen to music on mp3 95% of the time, it's a model of what a music service should look like. The lack of big labels isn't a major problem for me, as little of the music I listen to is on big labels. But best not to think of it as a place to get something you're looking for; instead, it's a place to browse and find stuff you've been meaning to listen to. For me, it feels like the world's largest, cheapest, second-hand CD shop.
For example, so far I've downloaded the Oysterband's _Ride_, which I only have on cassette, a Ewan Maccoll collection where our CD is heavily scratched, so we couldn't rip it, The Celtic Poets by Jah Wobble because it looked interesting, Barsaat by Musafir, who we heard live somewhere, sometime, and two songs by Moby because Michael Abbott was remarking on how much Moby looked like Jonathan, so I wanted to hear some of his music.
It's $9.99 a month if you sign up for a year, or $14.99 a month if you sign up for three months. You can download 50 tracks free as a trial (credit card required). It's great. It's cheap. It has lots of good music. Mmm mmm.
*There are a variety of download limits. You have to use their own download manager (which is small, and has versions for Windows, Mac and Linux) to queue tracks. You can't queue more than 45 tracks at once, and there's some discussion online to the effect that people who download more stuff find their downloads throttled. There's apparently also a 'don't abuse eMusic' limit as well, of a couple of thousand tracks per month. Overall, they don't want you downloading more music than you're likely to listen to, which is fair enough.
Posted by Alison at 12:16 PM | Comments (1) | TrackBack
An Inexplicable Horde of Journalists Descend on Tottenham Street
I was part of London's first flash mob this evening. We gathered in pubs in Soho from 6, and then from 6:17 received our instructions.
These contained not just where we should go, but also what we should do when we got there. Mike instantly started moblogging to LiveJournal.
Meanwhile, people syncrhonised their watches, and at 6:17 we were off! Just round the corner.
On arriving at the sofa store, all ready to excise the o's from our spoken voice, we discovered it was closed. At this point the mob milled around a bit, unsure what to do next.
Luckily, the security guard was nearby, and seeing a mob of people outside his store, he did what any sane security guard would do, and opened up the shop; this triggered the last part of the event, where people coveted the sofas with the words 'Oh Wow, What a Sofa', without making the sound of the letter oh.
And this is different from shopping in IKEA on a Saturday how?
After a few minutes we all dispersed; perhaps not quite as quickly as the inventor of flash mobs expected.
Posted by Alison at 12:42 AM | Comments (3)
August 05, 2003
What Will They Think of Next?
From 23 August, you won't be able to board a central London bus without buying your ticket in advance. This is because queues of people paying the driver slow down buses. Who'd have thought it?
You know, they could speed up buses even more by increasing the use of open platform buses with conductors. Wouldn't that be an innovation?
Posted by Alison at 12:36 PM | Comments (3)